As fearless reporting reveals the truth, let's not forget the futility of war
I have followed the reporting of Ben Roberts-Smith's alleged crimes in Afghanistan, from the time Nick McKenzie first revealed the story in the Herald in 2018 ("Truth wins", June 2). The accounts rang true, appeared to have been thoroughly investigated, were non-sensationalist, objective and were brilliantly written. Over the years I've read the followups, listened to the podcasts and followed the marathon that was the defamation trial.
I've never doubted that the Herald should be found to have substantively reported the truth – but then I'm not a lawyer and as it was once said, "the law is an ass". So, it was with profound relief hearing Justice Anthony Besanko's verdict. While a committed Herald reader, I don't always agree with the opinions expressed in its publications. However, I am proud of the fearless reporting of its journalists and that the publisher has stayed the course in this monumental battle in defence of the press' role in reporting on grave matters of public interest. Long may the work continue. Megan Jones, Pyrmont
It's not how we deal with ourselves on the best of days, but how we deal with ourselves on the worst of days that defines character. Yesterday was both the best, and worst. For the character of Australia and the famous Anzac spirit, soldiers who do the right thing despite frustration and high personal cost, it was the best.
It was the best for the Iraqi and Afghani civilians who have seen Australian soldiers, and democratic society, unflinchingly describe the wrongs done to them and know Australia can again be trusted; for those who have lost loved ones, that their lives matter. And for future Australian soldiers, who can once again be seen as a proud, respected and trustworthy armed force, it was a good day.
Make no mistake, the behaviour described also cost Australian soldiers' lives – an army literally lives and dies by its reputation. This decision was one step forward in protecting future troop deployments. Pauline Bleach, Wolli Creek
The values Ben Roberts-Smith betrayed are not just precious to the Australian people. They are also advantageous in achieving military objectives. The judge's decision in the defamation case may well help diggers in future wars; a different decision would have made their job more difficult. Jim Mackenzie, Cherrybrook
Congratulations to the Herald for your light shining journalism. This complex and protracted defamation case would have been extremely stressful for the defendants and the bereaved.
Good media disinfects evil by exposing lies, corruption and wrongdoing of all shades. We can sleep easy with this excellent outcome. Anne Matheson, Gordon
Nick McKenzie, Chris Masters, the SAS soldiers and Afghan witnesses in this civil case – For Valour. Cecilia Hannon, Bathurst
War is war, and terrible things happen
It is illegal to kill a civilian in war. Soldiers, such as Ben Roberts-Smith are trained to kill, it's their job ("'You machine-gunned him"' , June 2). I grew up in the UK during WWII. There was widespread bombing of UK by Germany and many civilians lost their lives. Bombing raids over Germany killed many German civilians. I remember reading at that time of the Dambusters and I wondered how many civilians had perished when the dams broke. In Japan, atomic bombs killed many civilians. I find it difficult to judge the actions of Roberts-Smith. What I do feel strongly about is the futility of war. David Oliver, Orange
My dear father lay in the desert in North Africa, during World War II for two days after being seriously wounded, German soldiers came through, dad called out for water in German, the soldier's response was to bayonet my father twice. War is terrible, soldiers do terrible things out of stress, anger and fear. Should I sue the German government for this act of barbarity? My father by some miracle, survived, came home, married his brother's sweetheart, (his brother is buried in Libya), and had six children.Janeen Anthony, Oatley
I'm a Vietnam vet. Interesting how there are rules for one side and not the other. Any reckoning for the war crimes inflicted by North Korea on allied POWs, the North Vietnamese on US airmen, the Russians on Ukrainian soldiers. The Taliban and its publicised executions? We should recognise that war is war and that bad things happen. Michael Clarey, Pyrmont
This was a terrible incident, but probably one of many that have occurred during operations in places like Afghanistan. The blame does not rest only with the direct perpetrators. We, the citizens of the democracy of Australia, put these young men in a situation that fostered this type of behaviour, and share the blame. We need to ensure that this does not happen again.Tom Lockley, Pyrmont
We should be careful not to let the actions of a few tarnish the service of many thousands who maintained their humanity and honour while serving in combat zones. Our soldiers are a precious commodity, and have been degraded from overuse by politicians for their party political purposes and the political advantage of larger allies. It is timely to review the necessity of involving our nations militarily in so many foreign adventures that are not in our national interest. Simon Chance, Richmond Hill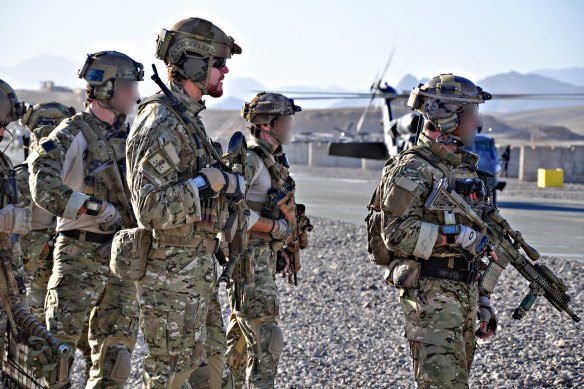 If you train people to kill people, and reward them for so doing, you have to not be surprised, if sometimes they kill the wrong people. Margaret Stuart, Moss Vale
Learning from history
The argument that "it's an easy fix" to change street names falls into the category of those who pull down statues of historic figures who for some represent colonial injustices ("Stale, male or beyond the pale: suburbs need a new name", June 2). Past wrongs, in all their horrors, are in and of the past.
Vancouver, my other home, is an example of a city that balances celebration of the environment, acknowledgement of history and an awareness of Canada's wide land. Streets north of the airport have names such as larch, balsam, vine, yew, maple, cypress, Spruce, Oak and many more. Driving westward towards The University of British Columbia one crosses streets such as Dunbar, Waterloo, Blenheim, Balaclava, Caravan and Trafalgar. Moving east, it's Columbia, Quebec, Ontario, Manitoba. For those wishing to address past wrongs, by all means give new streets names that reflect our increased awareness of our society's diversity. And the statues? Leave the statues where they are and have plaques attached that give extra, possibly alternative information. Therese Curtis, North Sydney
In Aarti Betigari's sexist and racist attack on some long-gone politicians who have suburbs in Canberra named after them it would have been nice to mention that Canberra was named after an Aboriginal word meaning "meeting place". It is well past the time when our states should have discarded their colonial era names and adopted Indigenous ones. Lindsay Foyle, Stanmore
As a boy I lived in Agincourt Road, which along with the surrounding streets, was named after the battlefields of Europe. Places of no doubt unspeakable atrocities. Historic references, good and bad, evoke reactions, but with those reactions we learn. If we attempt to sanitise place names and monuments history is diminished, and without knowing the mistakes of the past, history will be repeated. As all too often happens when ignorance prevails. Simon Pitts, Riverview
Workin' 9 to 5 no way to make a living
Jordan Lane is correct: working hours in general are a relic of a bygone era ("Traditional timetable is sexist: Liberal MP", June 2). Working nine to five is an outdated business model which we have clung to with religious fervor. Let's think about what might happen if the GP worked 12pm to 8pm, or the dentist or the builder? How many people take time off work to manage these appointments during the day? Lots of industries work outside the nine to five paradigm. Let's make the workplace hours more family friendly. Imagine the ease of commuting if working hours were staggered, no delays on the train, fewer cars on the road, less stress. Bring it on. Stephen Trevarrow, New Farm (Tas)
Tragic incident
Matt Romania's family experience of miscarriage resonated with me but was in stark contrast("My wife and I lost our baby but we've found a way to heal", June 2). One of my daughters experienced a stillbirth at 21 weeks in 2021, and I see how this has damaged her, our once happy, ray of sunshine child.
Unfortunately, my daughter's wasn't the positive experience of Matt's. My daughter was sent in shock to a waiting room alone after the devastating ultrasound, with no explanations, advice or communication from anyone, except, "you can't drive". On arrival at imaging I asked after her, and was dismissed with "don't know, she left", after which I found her in the basement alone in her car, totally broken. After induction and stillbirth a grief counsellor stated, "you won't be able to look at babies for a long time", which was beyond bizarre for my distressed daughter, whose sister was about to give birth. There was no meaningful advice or follow up, and after the autopsy, the brief phone report was delivered without any explanations by a rushed, uninterested registrar. My daughter subsequently decided to never have another baby, so etched into her is uncaring management, physical and mental trauma. Lastly, there's the trauma of watching your child lose her child. Robyn Dalziell, Kellyville
Pay peanuts…
Another incident in less than a week with one of the new ferries purchased from Indonesia by the previous NSW government ("New ferry out of action after hitting wharf", June 2). The savings directly and indirectly on both train carriages and ferries has proved very costly. The previous government folly shows clearly, you get what they paid for. Australian made is the only way forward. Brian McDonald, Willoughby
Impossible task
The Medical Board of Australia's chair has warned health start-ups not to look for loopholes in its crackdown on prescribing drugs ("Follow spirit of online law, board urges", June 2). That is akin to telling water not to run downhill. John Matheson, Antechamber Bay (SA)
Public property
Great to see some light being shed on the cloud of carefully maintained secrecy surrounding the hotel development's damage to Busby's Bore ("Convict tunnel halts construction of hotel", June 1). Another detail shrouded in secrecy is that in August, during the same excavations that damaged the Bore, several of the 19th century terraces backing onto the site suddenly developed serious cracks in their walls. Including mine. And nine months later still no help with repairs. Council says it can't help ("It's a civil matter") because our houses are private property. Happily for history, Busby's Bore is not. Susanne Eisenhuth, Paddington
More understanding
Instead of sitting all the kids together as a group punishment for vandalising of the toilets, shouldn't the staff be asking why the kids are vandalising anything (Letters, June 2). Trust, compassion and understanding brings out the best in kids, not mass judgment. It takes me back to my primary school – and that was very last century. Rosslyn Jeffery, Castle Hill
Car culpability
The letter writer who thinks the road toll is mainly about individual driver capability is wrong (Letters, June 2). For a long time we've focused on individual actions to address the deaths and injuries we tolerate on the streets, but new information is showing that systemic issues – such as public policy, road design and financial structures – play a significant role in our sense of entitlement to drive as fast as we possibly can. For decades, NSW governments have placed car driving ahead of other transport facilities and we now have an enormous proportion of the population who drives (often because they have to) and many of them tend to think they're better at it than every one else. Roisin Kelly, Glebe
Tough search
We are in our seventies and recently sold our relatively large home with a substantial garden to move closer to family (Letters, June 2). We searched for something smaller that was level, within walking distance of shops and amenities, sensitive to its environment and affordable as we age. We looked at soulless modern units in high-rise buildings that scored poorly on the sustainability front. We figured their exorbitant strata fees would only increase as our income declined. We looked at town houses squeezed onto what was previously a single house block. Often they were poorly constructed with steep steps leading to the upstairs bedrooms. So, we bought a house on a small level block with a manageable garden where we could minimise our environmental footprint. It seems there's not much for us septuagenarians between the large family home and the retirement village. Megan Singer, Hamilton South
And another thing regarding the outrageous cost of buying a roof to put over one's head. How about real estate agents being paid by the hour instead of raking in a percentage of every property they sell? Ellie Hallett Toowoomba (Qld)
Origin of specious
All I am hearing from my mates about State of Origin is that it's time to change the NSW coach ("Souths Origin Saviours?" June 2). Peter Nelson, Moss Vale
The vast majority of non-NRL footballers get paid depending on the result of the game. Winners are grinners; losers are paid a lot less. To encourage NSW players to play for the full 80 minutes and make that extra effort they should only get top dollar for winning. Laurie Powell, Woy Woy
Stick it to the script
With every second word in Succession starting with "f" I think I'll move out of retirement and become a scriptwriter (Letters, June 2). Vicky Marquis, Glebe
Intelligence matters
AI? Bring on Frank Herbert's Butlerian Jihad, predicted so accurately in his 1965 novel Dune (Letters, June 2). Kevin Farrell, Beelbangera
Simply turn them off? Has your correspondent not seen A Space Odyssey or The Matrix. Todd Hillsley, Homebush
There's no need to be concerned about AI causing the demise of humanity; human intelligence will probably take care of that. Tony Hunt, Gordon
Build up
The answer, Robert Hickey, is that cities are where things happen (Letters, June 2)! Unlike Green Point. John Christie, Oatley
Postscript
"​Would that Ben Roberts-Smith had been an opinionated letter writer (like so many). He would have fired off a furious repudiation of the Herald articles at the time – maybe an opinion piece. End of story," wrote Carsten Burmeister of Mosman. The decorated soldier chose a different road, and on Thursday a Federal Court judge found he murdered four unarmed prisoners in Afghanistan.
Many wrote to congratulate the Herald on the historic victory in the defamation suit and lauded journalists Nick McKenzie and Chris Masters. "This is in the same league as the Watergate expose, so Masters and McKenzie are up there with Woodward and Bernstein," wrote Pasquale Vartuli of Wahroonga.
Loading
Felix Orcullo of Wahroonga said he found it "gratifying to read that truth has won. But from where I sit, not only has truth won, journalistic integrity has also won."
Many reminded us of the horror and futility of war, and the damage done to those who serve the nation. "We should recognise that war is war and that bad things happen," Michael Clarey of Pyrmont, a Vietnam vet, said. And as Tom Lockley of Pyrmont, wrote, we "need to ensure that this does not happen again. We put these young people in a situation that fostered this type of behaviour, and share the blame."
Col Burns of Lugarno applauded the Herald for its investigation and asked this pertinent question: "When a brave, decorated war hero can easily lose sight of the rules of engagement, are we deluding ourselves by thinking that we'd behave any more honourably under similar combat duress? I hope we never have to find out." Pat Stringa, letters editor
To submit a letter to The Sydney Morning Herald, email letters@smh.com.au. Click here for tips on how to submit letters.
The Opinion newsletter is a weekly wrap of views that will challenge, champion and inform. Sign up here.