ArtExpress has been helping young artists shine for 40 years
Artist Louise Zhang vividly recalls the moment in 2009 when she first saw her work at this year's ArtExpress exhibition at the Art Gallery of NSW.
"It was a really big boost to see it in this room with all the European masters that we study in school," says Zhang, who has since built a successful career with her multidisciplinary work.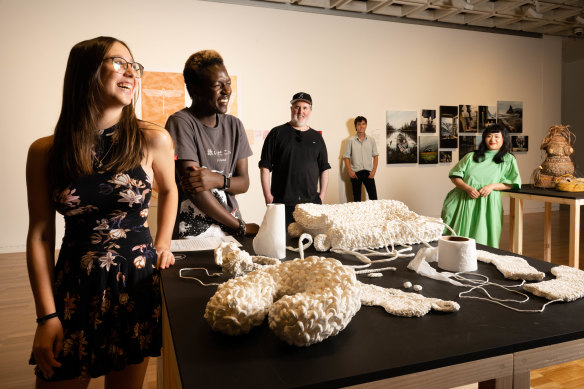 "It gave me the encouragement and validation to say don't worry about making money or getting a job to survive. I was very confident that I could do fine arts as a degree."
Zhang spoke to the work of 43 HSC fine art students on the eve of the 2023 show. This year marks the 40th anniversary of the show, which in the past has featured big names like Julie Fragar, Tom Polo and Ben Quilty.
The quality and variety of work continues to impress. One of the more idiosyncratic pieces is by Sydney Girls High School student Isabella Molinari, whose work is a collection of objects crocheted from toilet paper – in part a tongue-in-cheek comment on the lockdown and forced separation from her family in Italy.
Molinari was on a school trip with friends when she received the email that she had been selected for ArtExpress.
"Everyone freaked out," she says. "And I was like, when are they going to send another email to say they made a mistake?"
Ashfield Boys High School's Sabry Beshir Mohamed describes the selection as a "really, really joyful experience".
His confronting body of work consists of five photographic self-portraits, some of which show him wrapped in shawls as at a traditional Islamic funeral.
https://www.smh.com.au/culture/art-and-design/young-artists-shine-as-artexpress-marks-40-years-20230201-p5ch21.html?ref=rss&utm_medium=rss&utm_source=rss_culture ArtExpress has been helping young artists shine for 40 years