Armani, Hugo Boss and a Bally briefcase; Correct 'loose' council spending, inquiry says
A parliamentary inquiry is calling for a crackdown on loose spending by councillors, after the Mayor of Canterbury Bankstown spent thousands of taxpayer dollars on a Bally briefcase and designer clothes from Armani, Hugo Boss and Michael Kors.
The Office of Local Government should also be pursuing council members' foreign property interests, it said, after the same mayor, Khal Asfour, revealed he owned an apartment in the Philippines that didn't need to be declared as his financial interest because it was offshore lay.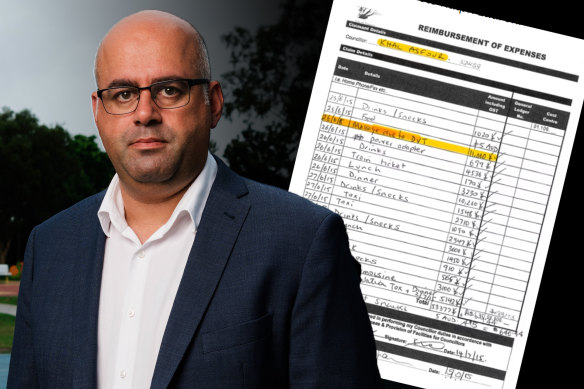 The herald Received a draft report from a parliamentary committee investigating allegations of impropriety against Canterbury Bankstown City Council agents, due to be released on Tuesday. It is not the final version and does not include the Labor MPs' dissenting report.
Asfour resigned from voting for the Labor House of Lords for the March 25 general election after his expense reports were revealed, but remains mayor. The applications comply with the Council's reimbursement guidelines, but the committee's report described them as "beyond community expectations".
The inquiry was convened after Tania Mihailuk, then Labor MP for Bankstown, questioned Asfour's eligibility to sit in the state legislature under parliamentary privilege and accused him of flouting the interests of developers and "identities", including corrupt former Labor MP Eddie Obeid , to promote. Asfour denies the allegations.
As part of its research, the committee commissioned the council to produce expense reports. They revealed that Asfour spent more than $2,000 in community funds on business apparel, including clothing from designer stores Hugo Boss, Van Heusen, Armani and Michael Kors.
He also bought a Bally briefcase and used community funds to pay for floating tank treatment in Japan to ease the ailments of the long-haul flight. "The Committee is concerned that this loose spending of taxpayers' money is not confined to Canterbury City Council Bankstown," the draft report said.
Asfour told the committee that he owned a unit in the Philippines that he did not need to declare as it was offshore, leading to another committee recommendation.
"There may also be gaps in financial interest disclosure requirements related to foreign and interstate ownership, the report said. "We recommend that the local government office review policies regarding these matters."
https://www.smh.com.au/national/nsw/armani-hugo-boss-and-a-bally-briefcase-fix-loose-council-spending-inquiry-says-20230225-p5cnl6.html?ref=rss&utm_medium=rss&utm_source=rss_national_nsw Armani, Hugo Boss and a Bally briefcase; Correct 'loose' council spending, inquiry says