Ari Aster's Mummy Trouble, Is This The Most Freudian Movie Ever Made?
Ari Aster really wants you to see his new movie, Beau is scared. "It's the biggest film I've ever made, which means more money has gone into it, which means it has to do it make more money," says the writer and director of cross-genre horror hits Hereditary And midsummer.
"I hope it's successful so I can continue making films on a similar scale, but also because I'm proud of it. And because I love the film, I hope people see it."
But as much as he wants the film to resonate with people, he really does Really don't want to talk about it. At all.
"Anything I tell you I'll regret," he says over a Zoom call punctuated by the longest pauses I've experienced in decades of interviewing artists of all genres. "The best viewing experience would be without the baggage of having seen or heard something and being able to just take it all in for the first time."
Well, assuming there are posters and a trailer, that's not going to happen. So what's your retreat position?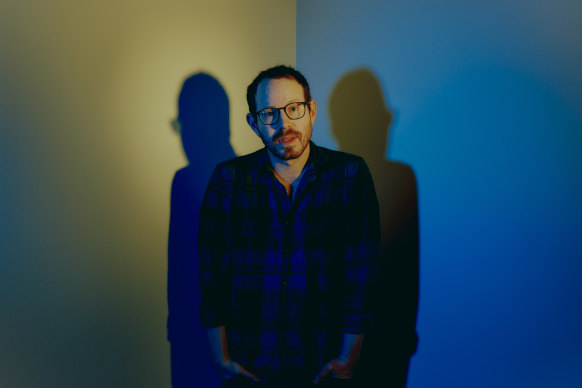 "The second best viewing experience would be not reading an interview with me," he says. "But if, unfortunately, you've seen a trailer or a poster or read an interview, then where do we stay? Just hopefully, I don't know, open-minded. I don't know. That's hard to answer because…"
A long pause follows.
Aster's film is three hours long, and it's unlike anything you've ever seen before. As the titular beau, Joaquin Phoenix is ​​in almost every shot, save for a few sequences showing this terrified character as a boy (played by Armen Nahapetian) on the verge of puberty and the terror that will soon engulf him. for reasons that will eventually (more or less) become clear.
Over the course of those three hours, our confused hero stumbles from one nightmare scenario to the next.
We first meet the grown beau on the street outside his run-down apartment block, where he runs the gauntlet of hyper-violence, pure terror in his eyes. Junkies lie dead in the gutter, a naked man stabs strangers with a knife, a tattooed psychopath chases him as he races desperately for the security door of his building. From there it goes downhill rapidly.
But is any of this real? Or should we rather experience the world the way Beau does, through a prism of fear and insanity that distorts what is "really" there?
"I wouldn't say it necessarily…I mean, yeah, sure," says Aster when I ask if his goal was to put us in Beau's subjective consciousness.
He rubs his head, stares at the ceiling, and finally focuses back on the screen. "Yes," he says after another long pause. "I'm not sure how much to add to that. But yes."
Well, let's try it this way: Is the heightened sense of danger in the film a projection of your writer's voice, or is it meant to represent Beau's worldview?
"I would say the former because this is the world of the movie and Beau lives in that world," he says. "But we are also very close to Beau and his experience.
"I'm not trying to be difficult," he adds, pausing once more. "But, yes, it should feel like you're in his experience. It should feel like you're with him and you're feeling what he's feeling. That should be the experience of the film."
He may be an insanely (if amusingly) frustrating interview subject, but in just three feature films, Aster has emerged as one of the most exciting and distinctive new voices in American cinema. Hereditary blended a portrait of a grieving family with the tropes of devils and witches to push the horror genre into startling new spaces. midsummer fused a fish-out-of-water tale with folklore, folk horror and psychedelia, turning it all into something completely unexpected.
Both were anchored not only by Aster's stunning visuals and startling plot twists, but also by a captivating central performance by Toni Collette in the first film and Florence Pugh in the second.
In Beau is scared, Joaquin Phoenix is ​​the pillar around which the often absurd plot is built. And Aster insists he was much more than a leading man.
"I can't imagine what the film would be without him," he says. "The film grew a lot out of what was in my head when it came on board. It was the best experience I have ever had with anyone."
In what ways has Phoenix helped him grow?
"He examines everything and he will question everything, to the point of whatever it was [on paper] almost has to be pushed aside, at least temporarily, to see if there's anything else that hasn't been considered. He's as immersed in the material as I can imagine an actor to be."
But it's your film, your screenplay. Doesn't that lead to conflict?
"No, because we're trying to get to the heart of what I wrote.
"I hired Joaquin because I knew he had remarkable talent and intelligence," he continues, "and it would be very foolish to try to curb that and force too much on him. I never felt that the work I wrote or the film I tried to make was being sabotaged in any way. It was always the opposite. I felt like we were both on the same mission the whole time, which is, 'How do we make this as good and interesting and vibrant as possible?' It felt like a partnership, a lot."
Aster has called his film a "hellish Freudian picaresque." Put simply, it's about a man paralyzed with fear who attempts to visit his mother, Mona (played by Patti LuPone and Zoe Lister-Jones in her younger incarnation), only to find his journey cut short endlessly and catastrophically.
But it employs some of the central ideas of psychoanalysis as both literal and metaphorical means. In the very first scene, baby Beau emerges from his mother's birth canal, and in a way, the entire film is about his attempt to return there, to the last place he felt truly safe and at home.
In other words, it's the original Freudian psychodrama, a story about the pain of separation and the harm a mother does to a son.
So I ask him how do you think female viewers and critics will react?
"What do you think I should expect?"
I don't know, but a backlash doesn't seem too unlikely.
"Yes, I wonder. I wonder if some of them will almost find it funny or even almost relate to Mona. Who knows? I don't know. But it's all like a Freudian joke, right."
He immediately wishes he could take those words back. "I wish I hadn't said it," he says. "I'm more reductive than I want to be. Even saying that feels too obvious."
He'll at least readily admit to being a fan of the oratory (just apparently not when it comes to his own work). "I've been in therapy for probably, you know, a total of eight years, and I really believe in it. I think the therapy is great."
When Aster tries hard not to say much about his film because he wants people to experience it in a pure, unmediated form – which, to be honest, is a perfectly reasonable desire, albeit rather at odds with the spirit of one Promotional campaign – he will offer at least one note in the tone.
"It's a comedy," he says. "I wanted to make a film about ambivalence and how scary it is to be alive and to be in the world. And I wanted to do it on a big carnival screen."
But of course there is a caveat.
"I hope it's a bit difficult to put it in a box. I wanted to do something that was sad and funny and I think I was in a playful mood while writing it. And it was a joy to make because it felt kind of unbound, you know. So there was a freedom in making it that was very, very nice."
He actually started the story a decade ago, before he'd made a feature film. Then came Hereditary And midsummer, and suddenly he was one of the hottest young talents in the indie world. And then A24 came along with the backing to finally make his crazy vision a reality.
Although they played around with form, the other two films were genre pieces. Nice defies categorization. Does that mean it says more about you than the earlier works?
"I think my friends would say and have said that this movie feels more like me than the others," he says. "I think more of my humor is in the DNA of the film."
Is it in any way, dare I ask, autobiographical?
"No, there is nothing autobiographical in it Beau is scared. It is a personal film, but there is no autobiography. It's as personal as any film is personal, especially when the person who directed it also wrote it, right. But no, there is no autobiography. I connect with Beau, I love him."
Do you? Don't you want to just shake him and say come on beau just snap it?
"Yes," he says, allowing himself a wry smile. "I also want to shake and tell Me to snatch from it. I wish I could."
Beau is scared will be in cinemas nationwide from April 20th.
You can find more of the author's work here. Email him at kquinn@theage.com.au or follow him on Facebook at karlquinnjournalist and on Twitter @karlkwin.
Find out the next TV, streaming series and movies to add to your must-sees. Get The Watchlist delivered to you every Thursday.