are Australians stuck in the past?
Sean Kelly posits the question: Are we now incapable of change? After witnessing more state and federal election campaigns than I care to count, one feature stands out above all others ("Are we now incapable of change?", March 6). Without fail, the promises list of the major parties are dominated by promises not to do things, some of these generated by the gotcha ruling-out questions from journalists. The list of not-to-do policies lengthens as the campaigns wear on. What does this tell us about ourselves? Are we a society that doesn't want any change? Or is it that we will accept change but not change which has any impact on our pockets? We live in a world of swirling social and economic currents which demand bold and creative responses from government, not do-very-little timidity which only hogties us to whatever went before. The Albanese government's proposed superannuation changes offer the tiniest glimmer of hope that change is possible – but only the tiniest. Alan Phillips, Mosman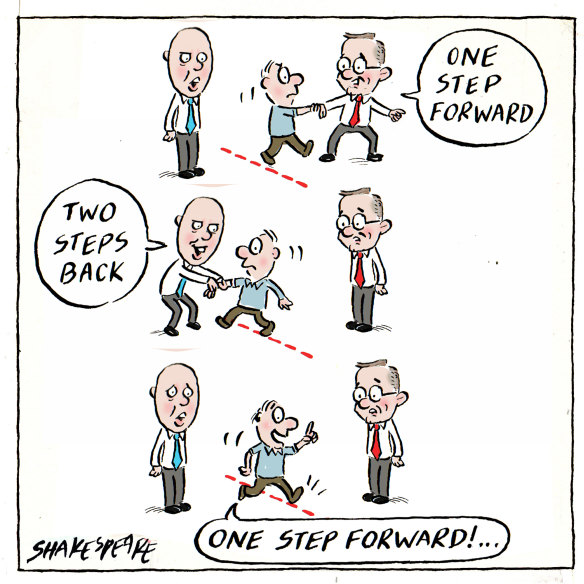 While argument rages on both the Voice and superannuation, the important side benefit is that the electorate at large is becoming more aware of First Nations peoples' disadvantage and the extent to which superannuation has become a massive tax minimisation scheme for a very wealthy few. Apart from new insights about taxation benefits available to a minority, the impact of inflation and higher interest rates has sharpened the perspective of those who may have seen themselves as "aspirational" as they battle to survive. Under these circumstances, the growing wealth gap and the revealed inequities of negative gearing, family trusts, capital gains taxation and franking credits could well have shifted community thinking that change in certain areas is overdue, necessary and the right thing to do for the majority of the population. Ross Butler, Rodd Point
Before we talk about changes to tax concessions on superannuation or the family home, could we first "start a discussion" about the tax treatment of family trusts and all those other sacrosanct tax-saving devices that range from the nifty to the shifty? Didn't think so. Adrian Connelly, Springwood
The hysteria and fearmongering over the government preventing the wealthy top 0.5 per cent from using super funds as a tax avoidance scheme proves just what a timid, selfish, and mean-spirited community we have become. Bruce Spence, Balmain
I am filled with hope. Australians appear committed to change evidenced by the acceptance of the proposed tweaks to super, a progressive move that has whetted our appetite for reform in a country hungry to reclaim its potential and an electorate sick of the block and tackle antics stymying progress. Janet Argall, Dulwich Hill
That's why we voted in teals and independents. We voted for a round table at the last federal election, not a wall for left/right diehards to hurl mud at. We can do it again because discussion is the seedbed of change. Sue Young, Bensville
If Australia is stuck, what will become of the Voice to parliament if successful? It seems government of all stripes are unwilling to make good policy decisions if they are politically unpopular. The electorate, myself included, is in no small way responsible for this goaded on by some media skewing facts and inciting electoral panic. The future looks more like the past. Is the past the future we want? Mike Keene, Stanwell Park
Where do we draw the line on free speech?
In his comments on the students with a megaphone, George Brandis accepts that there must be limits to the right of free speech ("Free speech, progressively discarded", March 6). The question is where do we draw the line? Insulting others may be acceptable, but is it inciting violence? We might not like what some say, but unless they can be shown to be inciting violence, we should be prepared to listen, and reject or accept on that basis. But there is another issue avoided by Brandis. The Sydney students are surely correct in referring to the power imbalance between them and Malcolm Turnbull. John Stuart Mill was correct in claiming the right of minorities to be heard, but how can they do that in the age of Fox and Sky? That is the real limit on free speech today. Ron Pretty, Farmborough Heights
There is a difference between freedom of speech and blatant verbal bullying. Freedom to speak out and argue against ideas and ideals you believe to be wrong is part of the privilege of living in a democracy. To abusively shout down anyone you disagree with, and prevent them from expressing their views, will always be called out as undemocratic behaviour. Joy Cooksey, Harrington
Neither the left or the right has a genuine shred of interest in free speech. It is human nature to crush dissenting views, especially when you know deep down the dissenter has a point. With the digital age upon us, the right has learned that the best way to control speech is with unfettered free speech. In the digital age, it is more effective to drown alternative opinion. I can offer no solution to the problem, merely observation. Paul Davies, Crows Nest
Brandis complains that anything which offends the left is now glibly called "hate speech". Conversely, anything which offends the right is labelled "woke." Sadly, the complainant's category, politicians, too often demonstrate that they are incapable of setting an example by leading the way in mature, intellectual debate. Ray Alexander, Moss Vale
Brandis writes as if the opponents of free speech only come from the left. He criticises the publisher Schwartz but is silent on the much more influential Murdoch. His other examples of intolerance all are of the left, suggesting that those on the right are the only champions of free speech. The enemies of free speech come from across the political and philosophical spectrum. Their views are driven by conformational bias and a wish to vilify those of a different view or presentation. Murray Patchett, Kentucky
While right-wingers conflate "free speech" with the right to lie and misinform then I will not support unabated free speech. I will always fully support speaking truth to power. Graeme Finn, Summer Hill
Jail should be a last resort
Senator Patrick Dodson is correct ("PM must fix this national disgrace", March 6). The failure of successive governments of the two main parties to implement all 339 recommendations made over 30 years ago by the royal commission of which he was a member, is reprehensible. The facts of the current situation are clearly stated in your editorial, and if Peter Dutton wanted to show his new compassionate face he would lead his Liberal colleagues to give bipartisan support to a national policy that enacts all those recommendations. One critical proposal is that incarceration should be a last resort.
Just over a year ago, NSW Corrective Services opened two new wings at Cessnock jail, which have now been predominantly occupied by Indigenous men. We must no longer accept the situation where a third of all male inmates in NSW prisons are Indigenous, and almost half of women inmates at Silverwater Women's Prison are Indigenous. As Linda Burney constantly reminds us: "we are not an innately criminal people". Doug Hewitt, Hamilton
The editorial is a timely reminder of our lack of progress in reducing rates of Aboriginal incarceration ("Act now to end the disgrace of Indigenous deaths", March 6). As the editorial correctly points out, "Indigenous Australians continue to die in custody at an appallingly disproportionate rate". This statement might be misinterpreted by some readers. The 1991 royal commission found that Indigenous people were no more likely to die in custody than non-Indigenous people but were significantly more likely to be arrested and imprisoned. The Australian Institute of Criminology has confirmed that this is still the case 31 years later. Two things are apparent. Any avoidable death in custody is a tragedy, and we must do even more to reduce the proportion of Indigenous people in custody. Although it is now nearly 10 years old, and makes heavy reading, the publication Arresting Incarceration: Pathways out of Indigenous Imprisonment, by former director of the NSW Bureau of Crime Statistics and Research, Don Weatherburn, has an exhaustive and professional objective examination of this whole issue. It should be compulsory reading for all concerned with turning things around. Col Nicholson, Hawks Nest
Recognition of Indigenous Australians in the Constitution? A First Nations Voice to parliament? Implementation of the 1991 Royal Commission into Aboriginal Deaths in Custody? Prime minister, that would be a yes, a yes and a yes. Kerrie Wehbe, Blacktown
Quit the pews
If Catholic women, who have been sick of the prejudice and abuse within the church for decades, want real change they should take a leaf from the union movement and withdraw their labour – of which they do most – and their bodies from the pews ("Sick of prejudice and abuse, Catholic women demand significant reforms", March 6). Perhaps then the hierarchy would realise they are an increasingly empty and irrelevant vessel whose noise is only being listened to by themselves.
Jennie Morris, Maroubra
It seems Pope Francis has come up with the ideal solution to the church's women problem. By allowing them into the deaconate he would give them a placatory and encouraging pat on the head, provide a hand maiden for the priest and keep them around to do most of the work. Peter Wilson, Murrays Beach
Hard squizz at top end
We have an equity problem ("ASIC's AI rejects claims in 38 seconds", March 6). While hundreds of thousands of Australia's most vulnerable were being hounded to repay money they never owed by an illegal automated robo-debt system, the "corporate regulators" at ASIC down the road were waving through tens of thousands of automated dismissals of serious wrongdoings by company directors. It's time we stopped complaining that the new government is going too hard on the entitled and rather urge them to go harder. Alison Stewart, Riverview
Haley's commitment
Nikki Haley is not seriously running for the presidency ("Presidential hopeful Nikki Haley has serene hypocrisy", March 6). She knows she doesn't have a chance. She is running to aid Donald Trump's bid by adding to the number of challengers. The more candidates there are in the primaries, the better Trump's chances are of winning the nomination. Then if, heaven forbid, Trump wins, she will hope for some sign of his gratitude. Richard Keyes, Enfield
TAHE: yeah, thanks
If we wanted to know how to manipulate government process to benefit elites, the TAHE board's attempts to channel the gravy train of benefits for executives at the top of the tree is the perfect recipe to follow ("TAHE arranged bonuses", March 6). Tim Dashwood, Killara
While fire stations, hospitals, TAFEs and schools cry out for adequate funding, TAHE, a body set up as a smokescreen to polish the image of the state government, attempts to award itself generous payouts. Good to know that taxes and talents are being devoted to such a worthy entity, allowing us all to live in Wonderland. Donald Hawes, Peel
Marginal call
I live in Lane Cove, a safe Liberal seat ("Little margin for error: the seats that will decide the state election", March 6). The Liberals don't promise me anything because they can't lose. Labor doesn't promise me anything either because it knows it can't win. Lucky people, those who live in marginal seats. Lothar Weichert, Lane Cove
The swap that sways
I am looking forward to watching The Swap, as its premise is something I've long believed ("Trading places", The Guide, March 6). Prejudice, stereotyping, racism all come from needing to feel superior to the newcomer, the stranger. I would hope this experiment could become part of the NSW school syllabus. Jewish schools should be included as anti-Semitism is increasing around the country.
But let's not stop at religion. The great divide between the privileged and ordinary Aussies starts at school and the gap is ever-widening. Let's have a program to swap students from the exclusive private schools and public schools of regional NSW, where the students are home-hosted by families, as they are in international student exchanges.
We cannot tackle all the problems of the world, but we can make a valuable contribution by seeing things from another's eyes. Congratulations to Ali Kadri for his initiative. Sue Jones, Bathurst
Sparing the plebs?
It is the dedicated buses driving around with private school names emblazoned on them that make me very aware of where my taxes are going (Letters, March 6). Perhaps they are reducing the crowding on public transport? Paree Hartley, North Sydney
Quokka shocker
Your correspondent nominates "quockerwodger" as one of his list of "weird words" (Letters, March 6). I hope the RSPCA is on the alert for any cruelty to quokkas. Anne McCarthy, Marrickville
Winklepickers were better known as "cockroach killers" in my day. Peter Butler, Wyongah
Words such as quockerwodger might be categorised as bumfodder. Don Bain, Port Macquarie
Toothless Tigers
As a lifelong Tigers supporter, I started this new season full of hope, but all was dashed after one round watching the Tigers on Sunday. Looking like it's going to be a long season once again. Which coach gets the blame this time? Denis Suttling, Newport Beach
In vestments
Thank you, Peter Campbell (Letters, March 6). The image of Archbishop Anthony Fisher strolling up Oxford Street in full regalia on a carpet of flower petals certainly made my day. Kay Abrahams, Freshwater
Oh my gods
Your correspondent quotes Ricky Gervais' perceptive definition of blasphemy as "a law to protect an all-powerful, supernatural deity from getting its feelings hurt" (Letters, March 4). The real hurt comes from the lack of realisation that this all-powerful deity could have designed a single religion for all, but in its infinite wisdom, chose not to. The result: several sub-deities are committing sub-blasphemies on other religions and often within the same religions, cults. Try it in a theocratic state. Ramani Venkatramani, Rhodes
The digital view
Online comment from one of the stories that attracted the most reader feedback yesterday on smh.com.au
According to my straw poll, no Boomer vote should be taken for granted
From cbeerdrinkbeer: "According to my straw poll, Boomers should no longer take it for granted that governments will cater primarily to their interests."
To submit a letter to The Sydney Morning Herald, email letters@smh.com.au. Click here for tips on how to submit letters.
The Opinion newsletter is a weekly wrap of views that will challenge, champion and inform. Sign up here.
https://www.smh.com.au/national/nsw/timid-selfish-and-mean-spirited-are-australians-stuck-in-the-past-20230306-p5cpnp.html?ref=rss&utm_medium=rss&utm_source=rss_national_nsw are Australians stuck in the past?