Ardie Savea out of Blues fight after one-match ban for "cut throat" gesture
All Blacks star Ardie Savea has been banned for a week after a SANZAAR panel in Melbourne last week acquitted him of serious misconduct over his "slit throat" gesture.
Savea has been summoned for unsportsmanlike conduct after gesturing his thumb over his throat in the first half of the Hurricanes' super rugby win over the rebels in Melbourne.
The star loose forward had just been sent into sin for his involvement in a fight. As he left the field, Savea made a gesture towards Rebels scrumhalf Ryan Louwrens.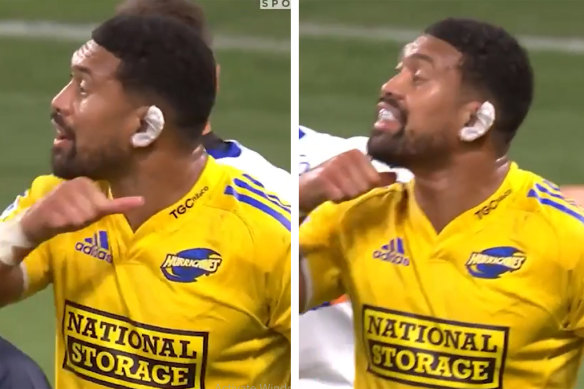 Savea apologized for his actions after the game, but the incident sparked a huge debate and SANZAAR later cited the New Zealand international under Law 9.27, which states a player must not do anything contrary to the spirit of good sportsmanship.
But after Savea pleaded not guilty and held a hearing Tuesday, the SANZAAR Judiciary Panel of Nigel Hampton, Mike Mika and David Croft determined the throat-cutting gesture didn't deserve a red card.
However, the panel decided they deserved an official warning, meaning Savea had collected the equivalent of two yellow cards that same evening, which is the equivalent of a red card and suspension.
Savea has been suspended for a week which will see him sit out the Hurricanes' clash with the Blues on Saturday. But by avoiding a lengthy penalty for the slitting gesture, Savea will be available to face the Waratahs in Wellington next week.
"After a detailed review of all available evidence, including all camera angles and additional evidence, including the player and submissions by his legal representative, Aaron Lloyd, the Judiciary Committee determined that foul play did not cross the red card threshold," Hampton said in one press release.
https://www.smh.com.au/sport/rugby-union/savea-out-of-blues-clash-after-one-match-ban-following-throat-cutting-incident-20230307-p5cq8f.html?ref=rss&utm_medium=rss&utm_source=rss_sport Ardie Savea out of Blues fight after one-match ban for "cut throat" gesture