Any vote will leave nation divided
Respectfully, I believe Sean Kelly ("Saying No should haunt us all", October 2) misses the point. It strikes me that both extremes of the No case speak of the abandonment of too many people to the vicissitudes of market capitalism. While the economy of the post-war era up to the early 80s produced mixed results, the general trend was that the quality of life improved for all. The general aim of government was to lift everyone up. Forty years of neo-liberalism on and we've seen a loss of faith in government to act in the common interest. What we'll wake up to on October 15 is likely to be what we went to bed with on the 13th: a nation divided into different camps by fear and frustration on the one hand and on the other those who are more optimistic because the system already advantages them. Whatever the result of the referendum, closing the gap requires our governments to ensure a better life for all Australians. Colin Hesse, Marrickville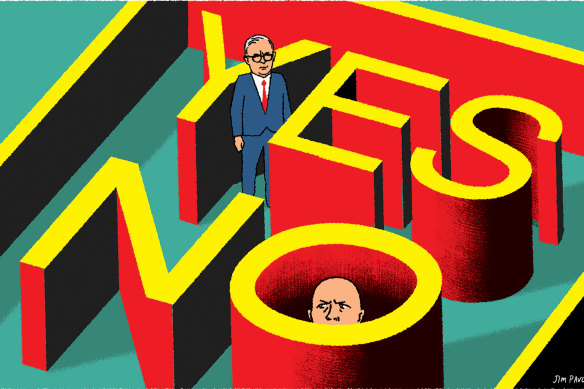 Rosemary O'Brien (Letters, October 2), holding the prime minister to account for the possible failure of the referendum is a neat piece of victim blaming. In her view, it's not the fault of opponents of the referendum who spread fear, lies and misinformation. Instead, it's all the PM's fault because he didn't stop them! Merona Martin, Meroo Meadow
Rosemary O'Brien, I disagree. David Littleproud and Peter Dutton turned the referendum into a political contest and any failure will be as a result of this action. If No wins and Queensland is part of that, these two Queensland politicians will make many of the rest of us ashamed to admit that we live here too. Christine Hackwood, North Lakes (Qld)
On the contrary, Rosemary O'Brien, Anthony Albanese should be praised for his courage and resolve in attempting to advance the Indigenous cause, after a decade of revolving Coalition leaders who showed no will to do so. Both John Howard and Tony Abbott promised to provide constitutional recognition of Aboriginal and Torres Strait Islanders, if re-elected. Abbott said it was "not so much changing the constitution as completing it". Littleproud announced the Nationals were opposing the referendum even before the question had been finalised and Dutton has made no attempt to distance himself or his party from the misinformation and outright lies that the No campaign is employing. A respectful and truthful campaign could have avoided much of the concocted divisiveness. Surely one's vote in an historic national question such as this cannot be based on a perceived sense of "overconfidence" from its instigator. Alan Marel, North Curl Curl
Accountability in leadership can be both a positive and a negative motivation. For a more proactive approach to decision-making and public practice, consider adopting the logos, ethos, pathos, kalos principle: Does it make sense? Is it ethical? Does it feel right? Will it do good? Not foolproof, but a very good way to start. Meredith Williams, Northmead
Both sides of the Voice to parliament debate should heed Aristotle: "It is the mark of an educated mind to entertain a thought without accepting it." Howard Hutchins, Chirnside Park, Vic
Why is it that Greek community leaders have to speak up to thwart frightening tales of what might happen to Greeks if Yes gets up (Letters, October 2)? Don't Greeks trust what non-Greeks say? Who's telling these unbelievable believed tales? Let's not overplay the role of fear on the referendum. If Yes goes down, it will be because the Yes case for the proposed Voice is Greek to most Australians and probably Chinese to most Greeks. Ross Drynan, Lindfield
I wish our government would put out an optional vote for kids aged 12 to 17. I am very excited to vote because I really want to be part of it. Right now, no one can hear my voice and know what I feel. It is also a very sincere topic that one has to really think about in considering all options. I am only halfway to the official voting age. In the meantime, I am trying to convince my parents and grandparents to let me have their votes! Liora Sido, Cammeray (age 9)
Political power
As Simon Holmes à Court's insights on nuclear suggests, all major political parties are guilty of politicising the vital transition from polluting to clean energy sources ("Nuclear fear unfounded: teal backer", October 2). While Labor and the Greens repeatedly dismiss nuclear, the Coalition has embraced the idea of nuclear, particularly small modular reactors, with vigour. At a time of escalating climate disasters caused largely by energy production, this deliberate division over our energy future is disappointing. Bipartisan support for the most cost-effective, safe and environmentally friendly energy options would make a welcome change. Currently, according to the CSIRO's GenCost report, renewables make the most sense – but in our rapidly changing world all deployable options should remain on the table. Amy Hiller, Kew (Vic)
The UK and other countries have experienced nuclear power generation which has gone wrong. Although much more is known about potential overheat problems, there is always the potential for some unseen defect or some builder or government cutting costs, as happened at Windscale in the UK. That disaster, which was almost a major one, is still being contained and will be until its centenary. There are problems in times of conflict, as now in Ukraine. A coal-powered station can be shut down in a few hours, a wind or solar source shut within a few minutes, while a nuclear power station takes 20 to 30 years, complete with toxic material leftovers. Apart from the temporary advantages for mining companies and electricity distribution entrepreneurs, where are the long-term economic or social benefits of nuclear power? Donald Hawes, Peel
The thing that seems to be assumed in all our discussions about power generation by whatever means is that we can afford to continue to use energy at the present levels. The truth is, we cannot. We must scale back if we have any hope of a liveable world. Greg Baker, Fitzroy Falls
The nuclear ban by the Greens and the ALP is not "irrational". It is sound policy based on genuine concerns and economic and fiscal responsibility. The issue of storage of nuclear waste has proved too hard for successive governments. No matter how far forward one projects into the future, renewable energy sources will also continue to be cheaper and easier to develop than nuclear. Environment, habitat and communities must be put first as we transition, rather than the business interests of the fossil fools who have run our power companies until now. Michael McNamara, Glen Innes
Current rules around dying condemn elderly to miserable deterioration
Your unnamed correspondent speaks for many outlining the lack of choices for seniors wishing to leave this world with dignity. The prospect of being placed in aged or nursing care to await the inevitable decline where you are unknown to yourself, family and others is distressing at best and unconscionable cruelty at worst. Surely we can do better than condemn our elderly to "miserable deterioration", not to mention the costs and the anguish to be felt by family and friends. Current voluntary assisted dying legislation is far too restrictive, not allowing any pathway for those without a terminal illness who see that in time they will be committed to institutional care to await a slow death. With an ageing population, more appropriate arrangements to bring life to an end are needed for those in similar circumstances to your correspondent. Ross Butler, Rodd Point
More chargers
In the UK there are long wait times to charge EVs during peak holiday times ("Staff hired to stop drivers fighting over chargers", October 2). Perhaps Australia could learn a lesson from this and provide not only more charging sites here but multiple chargers (at least 4) at each site. The number of EVs on our roads is increasing every day. Less talk and more action to roll out chargers. Most politicians don't own an EV. We'd see a lot more chargers if they did. Dennis O'Hara, Wanniassa (ACT)
This is starting to happen here and will soon become worse. My wife was recently abused by a man twice her size because she was charging our car and he wanted the charging spot. The Inner West Council has been talking to residents for more than two years about charging infrastructure but nothing is delivered. EV owners are not asking for this infrastructure to be free, just delivered as promised. Tim Douglas, Dulwich Hill
Fashion dogs
The tragic deaths of two young men have reignited the debate about the NSW government's policy on drug testing and the use of police sniffer dogs at music festivals ("Deaths draw focus to policies", October 2). To be consistent, when will we see the sniffer dog policy also deployed at designer fashion festivals and other "celebrity" events in this state? Rob Phillips, North Epping
Two more deaths from drugs at a music festival. It's time to realise drugs are a health issue. Young people have no trouble buying pills then swallowing down multiple doses at approach of sniffer dogs leading to paramedics, hospitals and possible death. Young people take risks; bring in pill testing.
Jenny Forster, Manly
Overdue action
My severely disabled daughter, Claire, would have been almost 45 years old today (Letters, October 2). She attended a local special school and when she was 11 her teacher suggested the idea of trialling an integration program at our local primary school, which my two sons were attending at the time. The trial was hugely successful with Claire loving being a class member and, in turn, the children loving having her as a classmate. Asking my two sons how they felt about having Claire attend their school, both said they loved it. First and foremost, they loved having their sister as part of their school lives. But they also enjoyed being asked about her by their classmates and being able to explain how she fitted into our family life. All in all it was a positive experience for everyone and I find it amazing that, more than 30 years later, we are still debating integration and whether or not we should encompass it. We need to get it done now for this generation of kids to reap the benefits (both those with and without disability)! Jenny Middledorp, Cromer
Special schools for disabled youth surely are havens of targeted learning, care and safety that no mainstream school could ever be. Only the very mildly disabled would and generally do cope in the state school system. Who will be deciding who will go to mainstream schools, and what levels of disability will be deemed to be no disadvantage to a child attending? The recently proposed integration of all children with disabilities might be of dubious benefit and one could think, cynically, might just be a government cost-cutting notion. Susan Webb, Valentine
The ideal of totally integrated schooling for students with educational needs is where we should be. But the commissioners should be aware of the barriers and unforeseen results here, in the most segregated education system in the world. Special classrooms exist independently, or are integrated within mainstream schools and only 20 per cent of students with disabilities attend private schools. Staff numbers are declining rapidly in public schools and nearly half of all teaching staff are casual. To garner fully-trained staff, support staff and then renovate hundreds of schools with for example wheelchair access or other equipment over 7 years is ambitious, yet a completely worthwhile target. It may, in the meantime, not assist the draining of staff from the public sector of education if, as usual, the resources just aren't there. Vanessa Tennent, Oatley
Airbnb register
Short-term Airbnb-style letting has moved well beyond the original concept of "home sharing" and is now big business ("The salad days of Airbnb appear to be over", October 2). Although NSW is the only state to require these properties to be registered, the register is not publicly available. Why is this? A review of politician's asset holdings would be illuminating, I think. Philip Fuller, Paddington
Discussions about short-term rentals don't seem to consider the reasons for the demand. For me, it's about space, the ability to make myself a cup of tea in the morning and no need to be confined to hotel services. Travelling with a group, a communal Airbnb house will always trump multiple hotel rooms. Perhaps if hotels changed their model and catered to some of these demands, at a reasonable cost, the market for Airbnb might change. Mark Tietjen, Redfern
Literally redundant
I was literally flabbergasted to read your correspondent's suggestion that "literally" could be "dropped from the language altogether" (Letters, October 1). While we're on the subject of superfluity and redundancy, could someone please explain how dropping a word altogether differs from just dropping it? Steve Cornelius, Brookvale
Welcome back
We wake to a letter from Con Vaitsas. Welcome home, Con. John Crowe, Cherrybrook
NSW winners
Life doesn't get better than this for a NSW sports fan: in the past couple of days, Queensland lost in the AFL, NRL State Championship, NRLW and the NRL. ("Broncos' bane: Four things we learned from Brisbane's heartbreak", smh.com.au, October 2)
Eric Viana, Ryde
Commiserations to the capital of Queensland – four points down one day, two points the next. And an hour behind the rest of us for the next six months.
Doug Walker, Baulkham Hills
Happy helmet
Andrew McGrath (Letters, October 2) seems to be questioning the good sense of Australia being ahead of the game regarding helmet laws. I for one was happy last year to bin a broken helmet and fork out for a new one. I avoided a permanent injury (or worse) and, for the most part, my friends think I still function normally.
Bob Edgar, Westmead
To submit a letter to The Sydney Morning Herald, email letters@smh.com.au. Click here for tips on how to submit letters.
Catch up on the best letters and online comments on the topic of the week in our Friday wrap Yours. Sincerely
The Opinion newsletter is a weekly wrap of views that will challenge, champion and inform. Sign up here.