Antarctica is contemporary opera at its finest
Antarctic
Sydney Chamber Opera & Asko|Schonberg
Wagenbau, January 5th
Until January 8th
★★★★½
The Sydney Festival opens with a highly ambitious, exquisitely realized new work from composer Mary Finsterer and librettist Tom Wright.
A philosopher, a theologian and a cartographer are drawn to the idea of ​​a great, unexplored southern continent. The philosopher imagines discovering the wonders of nature while the theologian dreams of it terra nullius for holy contemplation. The cartographer wants to map it. The three find a boat that takes them south Ultimate Thule. To Antarctica. None of them will survive to tell the tale, but the ice has its own way of revealing secrets.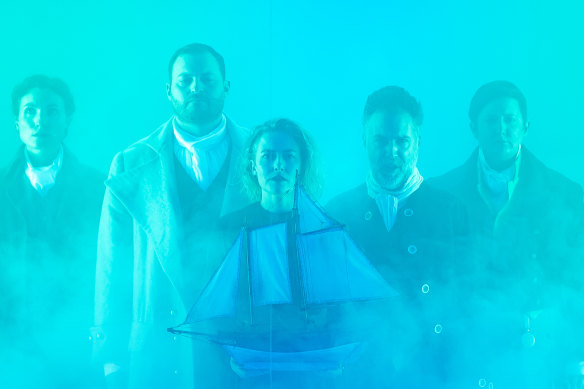 Opera is the ultimate collaborative genre, and in this world premiere directed by Imara Savage, set design (Elizabeth Gadsby), lighting (Alexander Berlage), sound (Bob Scott) and video art (Mick Daly) amplify and complicate the effect of words and music. The result is a beautifully crafted story that reveals its treasures in its own time. There are moments when I was uncomfortably aware of the story's slow unfolding, recognizing a developing pattern and realizing it had to happen, and that was going to take time. But like stars appearing in the sky, ice melting, or water levels rising, Antarctic rewards patient and undeterred listening.
Time plays out on many different scales Antarctic. There is history – of thought, of exploration, of music – conveyed through Wright's words, Gadsby's sumptuous costumes and Finsterer's score, infused with musical old friends that dissolve like memories. There's time now marked by conductor Jack Symonds, the pulse slipping through his fingers like sounds through fog. And there's Deep Time – the time captured in layers and layers of ice, in the slow shifting of a continent, visually evoked by Daly's captivating video art and Berlage's transformative lighting.
Loading
Finsterer conjures up a wide range of sounds for the Dutch Asko|Schonberg ensemble, from the gray groan of the viola d'amore to the dazzling white of the high-pitched piccolo. She also uses voices for their intrinsic character, timbre, and ability to convey words and emotions. Jane Sheldon's distinctive, light-filled tone bestows an otherworldly clarity on the daughter, while Anna Fraser, as the philosopher, navigates a labyrinth of melismas with tenacity and grace. Theologian Jessica O'Donoghue duets with daughter in Dreams of Miracles. As the cartographer, Michael Petruccelli is a gruff and urgent presence, while as the captain, Simon Lobelson unravels with heartbreaking beauty.
A cultural guide to going out and making love in the city. Sign up for our Culture Fix newsletter here.
https://www.smh.com.au/culture/art-and-design/ambitious-and-exquisite-antarctica-is-contemporary-opera-at-its-best-20230106-p5caug.html?ref=rss&utm_medium=rss&utm_source=rss_culture Antarctica is contemporary opera at its finest