Animator Richard Jeffery and the story behind Bluey
Yes, we met in 2004. We hit it off straight away – well, the three of us hit it off very well, Mark Paterson (Bluish entertainer) too. We were the only kiwis and aussies in the studio so it was quite fun. So we worked together for years, and between London and Bluish I went to Africa to manage a project and Joe returned to Australia and set up his own little studio where he slowly grew Bluish. Then when I was back in New Zealand he called me and said 'Rich, this thing is happening, I'd love for you to be there and help make the show'. I didn't need much convincing.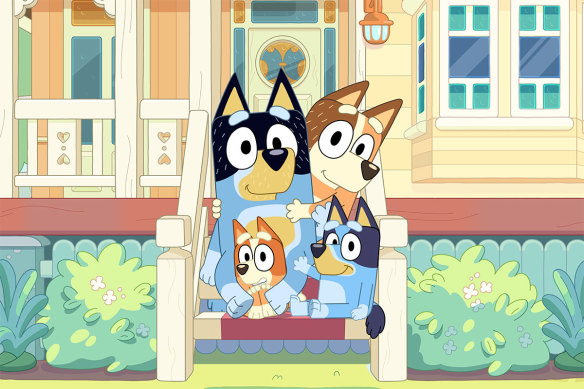 Did you think from the start, "Wow, this is going to be huge"?
That's a really good question, we get asked that a lot. I never like to be pretentious because you just don't know what's going to happen next. But I know that Joe spent a lot of time learning how to write good scripts and from then on we always set a high standard in producing the show. We just wanted to do a quality show. At the end, towards the end of season one, before it aired… yeah, I'd say I felt like this was going to be really good. I never want to say that I kind of thought, 'Yeah, we definitely have a big show' – you don't know (you sure know) – but I remember Chris, one of our animators, said to me, 'Richard, I think this is going to blow up, this is going to be a big hit, it's going to get out of control." I said, "Yeah, well, I hope it does, I think you're right." Then when it happened, it was it really beyond our wildest dreams. It has now reached a level where it is amazing. It's amazing working on a show that has come this far.
I think everyone who watched Bluish would say that it has something that sets it apart from most children's programs. Is there a secret ingredient or just everyone who works on it is doing a great job?
I think we took a new approach. I know Joe had an idea of ​​the type of show he wanted to do and it was different from anything we'd done before. Part of it was just a more honest portrayal of modern parenting as what parents can be like, you know. Most cartoons, the father is always a buffoon, the mother stays at home. It doesn't have to be. I think with Dad in particular we wanted to portray a very competent – well, both parents are very competent parents. I think it makes it more understandable instead of looking for the old 'oh yeah stupid dad' trope. We got away from that a bit. And I think there are only a few real lyrics that also appeal to parents: moments where you can find yourself. It won that co-viewership thing, which I think is one of the key factors in its success. I think there are many factors to his success, but I would say this is one. Suddenly parents feel good when their kids watch the show and they even watch it with them.
Loading
It's obviously a big deal to have a kids show that parents aren't going crazy over. It's probably no coincidence that one of the few shows in the past that fell into that category for me was Charlie and Lola.
So, Charlie and Lola also had a lot of heart. I was only animating on this show, I wasn't in a directing role, but it was my foray into preschool animation for kids. I loved the medium, I loved the kind of stories you could tell in preschool. Moments of real heart, moments of relatable humor.