Ancient indigenous heritage that makes Greeks and Romans look like Johnnies is coming lately
The Gunditjmara Aborigines live in Budj Bim in western Victoria and have been trapping kooyang (eels) for 6,600 years. One of the largest and oldest aquaculture systems in the world, it is Australia's first cultural monument to be inscribed on the World Heritage List.
Is loading
The fish traps are still in use today, said Erin Rose, executive director of the Budj Bim World Heritage Site, who will be a panelist next Monday. The site also contains evidence of more than 300 stone house lots that provide permanent housing and community living, she said.
But not many people knew about Budj Bim, although it could be found almost in people's backyards. "It confirms that indigenous culture is truly alive and still exists," she said.
The Heritage List states that the Budj Bim lava flows formed the basis of a complex aquaculture system developed by the Gunditjmara people. Volcanic rock was used to build canals, weirs, and dams, and to control water flows to systematically contain, store, and harvest kooyang.
Rose said the site is unusual because heritage listing and management rests overwhelmingly with the traditional owners of the site.
Mackay said most Australians don't think of Aboriginal culture when they think of heritage. "It's such an extraordinary story. When I tell my friends that there is a site in West Victoria that is over 6,000 years old where Aboriginal people built stone houses and practiced aquaculture, their jaws drop."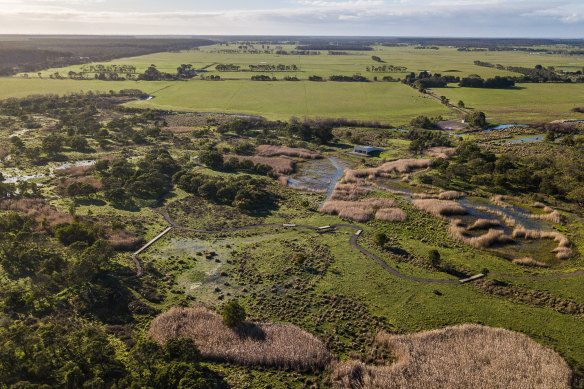 Jones said ignorance of this Aboriginal heritage is holding the nation back. "Until we reconcile that, we will never be a full-fledged country."
For this interview, Jones chose Dawes Point, where the Cammeraygal clan woman Patyegarang met with the astronomer William Dawes from 1788.
It was a "magical moment" in history that could have changed the course of Australia's collective history. Jones said Dawes is believed to be the only European to have learned the native language.
"There's this extraordinary, beautiful relationship that seems to be based on respect, and yet that's not our founding story. That's weird," Jones said.
Dawes' notebooks capture moments of intimacy. The phrase "putuwá," he wrote, meant "to warm one's hand by the fire and then gently squeeze another person's fingers."
The friendship and respect between Dawes and Patye could have been a model for future relationships between indigenous peoples and European settlers. Jones said, "We had someone who showed us the right path, but we avoid him and despise him. I don't know how many people know the story of Dawes, let alone Patyegarang."
Dawes was the first European to be shown to have defended Aboriginal rights. According to academic research, in 1790 he refused to take part in a punitive expedition in which the governor of New South Wales, Phillip, ordered the capture of two Aborigines and ordered marines to severe the heads of ten men.
After Dawes was arrested for disobedience, he agreed to take part, but the expedition could not find any Aboriginal people.