Amyl and Amy Taylor from The Sniffers on their dating history
Amy Taylor is a musician best known as the lead singer of Amyl and the Sniffers. The 27-year-old opens up about growing up in Mullumbimby, her first boyfriend and why she never thought she would get engaged.
My paternal grandfather, Charlie was always nice to me. He lived in a trailer park in Ballina, not far from Mullumbimby in north NSW, where I grew up. He once said to me, "Amy, you will always have roaches. It doesn't matter if your house is clean; You have clean cockroaches. If you have a dirty house, you have dirty cockroaches. But you will always have cockroaches." He died in 2019.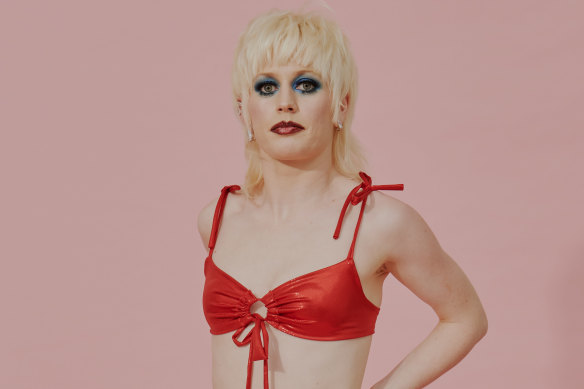 I'm definitely cut made of the same fabric as dad; we'll speak soon. I get a lot of energy from him – he doesn't like to sit still either. He's always on the go and so am I. He is a retired crane operator.
mom and dad moved to Mullumbimby from West Sydney in the early 1990s. They lived in a trailer, then in a shed, and then dad built a house, our childhood home, where they still live today. Dad took me to and from school to swim at the beach. My parents are still together; They enjoy beer on a Saturday night and gardening. They are each other's best friends.
I had many male friends growing up and always felt like one of the boys; I just got along with them and always had a similar energy. However, I wasn't allowed to stay with the boys. I didn't really understand why because I didn't want to kiss them, I just liked them as friends. When I was 12, a boy from Mullumbimby Public School took me to the cinema with his parents and bought me a bouquet of flowers. This is about as romantic as it got.
Loading
I always had a boyfriend in high school. I was with some for two weeks, with others for three months. They were nothing serious, lowly relationships that weren't really productive.
When I was 15½ I started dating a guy who lived in a homeless shelter. He was always in trouble, got kicked out, and ended up living with me for a while. That relationship consumed my final years of high school, and eventually I tapped out. He was my first real boyfriend and we were together until I was 18.
I've had bad dating experiences until I met my fiancé John; We got engaged last August. Before that I would date deadshits. I tried to find the meanest person in the room and always made sure I was with a moron. Most of these guys weren't nice people.