America's gun culture through the eyes of an Australian reporter
As the clash escalated into an all-out brawl, a man wearing a Bikers for Trump vest revealed a concealed gun he was carrying and threatened to start shooting unless the angry protesters stopped the surrounded him would "support the shit".
I stood a few feet away, making notes for an article. Needless to say, I backed away without a moment's hesitation.
Since then there has been no shortage of examples that remind me of the grim reality of American gun culture.
The most homely event occurred near the doorstep of my Washington DC apartment during last year's June 16 holiday, which commemorates the emancipation of enslaved African Americans.
It was Sunday night and the U Street Corridor where I live — one of the neighborhood's hotspots for clubs, bars and restaurants — was packed with people when gunfire rang out.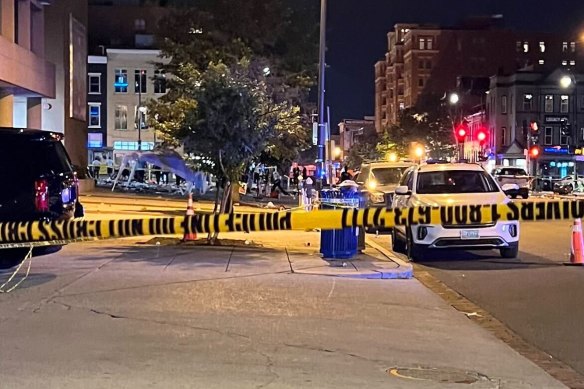 When the DC Metropolitan Police stopped issuing "active shooter" alerts, I went downstairs to see parts of my normally safe street smeared in blood and cordoned off with police tape. Tragically, a 15-year-old boy was killed that night and three others were injured, including a police officer. Tragically, the perpetrator was a child – also only 15.
Figures from the Gun Violence Archive show that there were 44,290 gun-related deaths last year, including 647 mass shootings. This year, just 25 days into January, there have already been 40 mass shootings.
While suicides account for more than half of all firearm deaths in the country, the Centers for Disease Control and Prevention warns that the rate of firearm homicides has risen significantly, rising 75 percent over the past decade and hitting a record high in 2020 .
According to the CDC, factors associated with the pandemic, such as job losses, social isolation and psychological distress, have contributed to the increase, particularly among minorities.
"Against the backdrop of the COVID-19 pandemic, the significant increase in firearm homicide rates, coupled with a notable increase in firearm suicide rates, has increased racial, ethnic and other disparities for some groups," the CDC wrote in a report released last year.
But while gun violence is a sad part of American life, the constant question is what can be done to reverse the trend in a country where so many people fiercely defend the Second Amendment, which largely protects the right to bear arms enshrined in the constitution.
That question has been asked a lot lately, particularly in California, where 24 people were killed in three separate mass shootings in just over a week.
Loading
The first was a suspected gang attack in Goshen, central California, on Jan. 16 that killed six people, including a 17-year-old mother and her six-month-old baby.
The second was Saturday night's shooting spree in the predominantly Asian neighborhood of Monterey Park, which killed 11 people and injured nine others after a gunman opened fire on the Star Ballroom dance studio.
And the third took place Monday at a mushroom farm and nearby site in the seaside town of Half Moon Bay. Seven people were killed in a tragic incident of "workplace violence" that authorities described as tragic.
While the circumstances may be different, the impact is the same. Communities are left heartbroken and helpless, and a nation wonders: What will it take to stop the slaughter?
Loading
A woman I met at the scene of the Monterey Park shooting told me that her nine-year-old son had begun to wonder what it would be like "to live in a place where there are no guns." Another woman who paid her respects that day said she no longer felt safe even walking to the gas station.
And California's Democratic Gov. Gavin Newsom bemoaned America's status as an outlier when it comes to guns. He called on his federal colleagues to act.
"Only in America do we see this kind of carnage," he told reporters.
Newsom is right. The US is the only country in the world where there are more guns than its citizens, with the latest figures suggesting there are an estimated 393.3 million firearms in the country — about 120 guns for every 100 people.
Loading
By comparison, Australia initiated a gun buyback program following the 1996 Port Arthur massacre and now has a strict licensing and registration system for firearm ownership.
The Biden administration last year worked on the edges of reform, passing a gun safety bill with the support of 15 Senate Republicans to step up background checks on potential gun buyers ages 18 to 21. restricting access to guns for domestic violence offenders; and incentivize states to pass "red flag" laws that allow people to petition courts to block guns owned by people perceived to be a threat to themselves or others.
But much bigger reforms like banning assault weapons or introducing universal background checks stand little chance in the currently divided Congress.
Add to this the powerful gun lobby, headed by the National Rifle Association, which shapes policy decisions by funding and supporting (usually conservative) candidates who have opposed gun control measures.
The NRA has been noticeably quiet lately, but the group generally argues that the solution is to address mental health, fix the "revolving door" justice system, and give people more guns to protect themselves — but with better education.
"Everyone is accountable for their actions," NRA President Wayne LaPierre said at last year's annual general meeting in Texas, which came three days after the school shooting in Uvalde, the worst in the state.
"There can be no liberty, no security, no security without the right of the law-abiding to bear arms in self-defense."
Meanwhile, as you read this, another American mass shooting may be taking place. And with every terrible tragedy, I'm reminded how lucky Australia is not to have the same problem.
https://www.smh.com.au/world/north-america/what-will-it-take-to-stop-it-an-australian-on-the-scene-of-america-s-mass-shootings-20230126-p5cfmg.html?ref=rss&utm_medium=rss&utm_source=rss_world America's gun culture through the eyes of an Australian reporter