Alleged scammer Samiuddin Khaja was arrested at the airport as he tried to flee the country
Investigators have arrested a suspected scam syndicate boss who tried to flee the country from Sydney Airport after uncovering a $1.2 million phone scam targeting the elderly and vulnerable.
Samiuddin Khaja, 37, was arrested Tuesday morning at the international terminal by officers from Task Force Artal, set up to investigate reports of phone fraud and money laundering.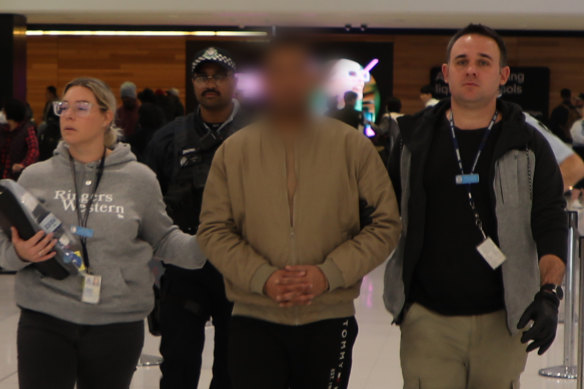 Khaja is the alleged leader of the fraud syndicate. Police further allege that Khaja was attempting to flee Australia as the net approached.
Khaja was charged at Mascot Police Station with leading a criminal group and handling crime proceeds in excess of $10,000 and refused to be released on bail.
He is the third person arrested by Artal investigators.
A 27-year-old man was arrested in Campsie in February and charged with reckless handling of the proceeds of crime. He was released on bail and remains in court.
Earlier this month, police raided a home in Bankstown and confiscated cell phones, hard drives and cash.
Last week, Artal Police marched a 36-year-old woman out of an office on George Street during the midday rush in the CBD.