Alice in Wonderland inspires Pear-Shaped, a play about eating disorders
THEATRE
Pear-shaped ★★★½
By Miranda Middleton and Ziggy Resnick
Theater works, until April 15
The mental illness with the highest mortality rate is not depression. It's anorexia nervosa, and the prevalence and public health burden of this eating disorder, not to mention the stigma surrounding it, shows no signs of abating.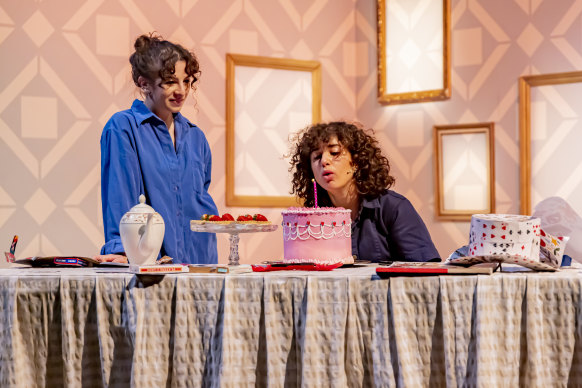 However, she is rarely portrayed in performance. We are more likely to be confronted with the other end of the eating disorder spectrum (think of the notoriety of a film such as The whale), and the silence can feel like cultural collusion. After all, entire industries invest in promoting unrealistic and unhealthy body image – particularly among women, but increasingly among men as well – and the most vulnerable suffer as a result.
pear shaped is ingeniously designed and conceived indie theater that ventures down the rabbit hole. It gives an insight into two sisters battling anorexia and adapts dialogue and characters from Lewis Carroll quite brilliantly Alice in Wonderland – themselves more absurd and disturbing and more attuned to deception than you might remember – to highlight the persistent dilemmas and frustrations they face.
Frankie (Ziggy Resnick) can't hide her resentment at her older sister Kayla (Luisa Scrofani), who will miss the family's Jewish New Year, Rosh Hashanah, after being hospitalized again with an illness that is insidious in the community High school spread has destroyed her adult life.
Playful and sometimes prophetic scenes reminiscent of childhood emerge as Frankie – a theater design student who has struggled with and recovered from her eating disorder – is inspired to ignore her pretentious director's vision and embrace a darker version of it close Alice in Wonderland draw on personal experiences.
Her creative insights break into the action through wonderfully imaginative puppetry, psychedelic projections, props, costumes and set revelations that the script transforms into sharp dramatic intent.
For example, the Cheshire Cat's description of her insanity turns into an accusation that Kayla "growls when she's satisfied and wags her tail when she's hungry." Similarly, it utilizes the caterpillar's unstable identity, the disorientation of Alice's body size changing with what she consumes, the dormouse at the Mad Hatter's tea party, and a fateful confrontation with the Queen of Hearts.