After two blockades in the port tunnel in one day, action against trucks that were too tall was stopped
Prime Minister Chris Minns says he will regain the power to de-register over-height trucks blocking Sydney's tunnels unless the national regulator cracks down, after 56 incidents in the city's tunnels this year, including two in the Harbor Tunnel on Tuesday.
Southbound traffic congestion and miles of queues on the Warringah Freeway ensued during Tuesday's morning and afternoon peak hours on Tuesday after trucks became stuck in the tunnel entrance because they were too big.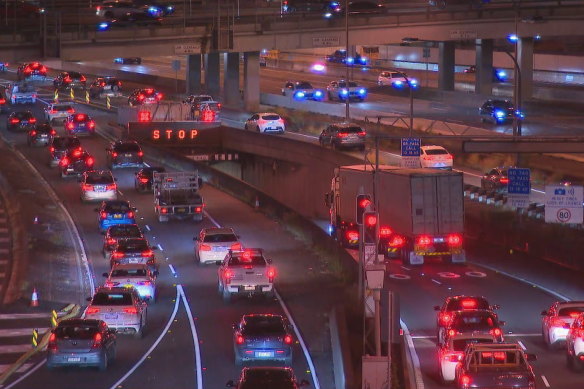 Minns said the situation was "unbearable" and that the government was also considering moving warning systems further from the tunnel so truck drivers would be notified earlier if they breached the height limit. Instead of a general warning, signs could also highlight the truck's license plate number.
"The infrastructure leading up to the harbor tunnel is a mess," Minns told Nine's 2GB Radio on Wednesday. "The alternative lane that trucks can enter when they are banked appears to be in front of the end stop sign. Once you pass the last stop sign you are in the mouth of the tunnel."
Roads Secretary John Graham is due to speak to National Heavy Vehicle Regulator Chairman Duncan Gay, himself a former Roads Secretary, on Wednesday. Minns warned that the New South Wales government would withdraw those powers if the regulator didn't enforce the available penalties by erasing truck offenders for three to six months.
So far this year there have been 56 truck overhang incidents in the Sydney tunnels – or about one every three days – down from 153 such incidents last year. About half of the incidents occurred in the port tunnel this year.
But since August, only three trucks have been deregistered, and a fourth attempt was dismissed in court.
"Obviously the system isn't working," Minns said. "Something has to change and if necessary we will put that responsibility back in the hands of the state and enforce it ourselves. The current situation is intolerable."