After 50 years, the Perth Concert Hall has run down but is still one of the best in the world
A 2011 poll of 200 performers, critics and audiences, which set out to rank Australia's 20 major concert halls, named Perth as the best venue overall (the troubled Sydney Opera House, which opened the concert hall that same year). , occupied the 18 opera house two places behind).
"It's warm, generous and fair without being soggy," said Richard Tognetti, principal violinist and artistic director of the Australian Chamber Orchestra.
"Some halls can be good but a little bit cruel, other halls can be overly forgiving meaning you get a very diffuse sound. Perth is honest without being cruel: it is a wonderful hall."
Mark Coughlan, former executive director of WASO and an accomplished pianist and conductor who has performed at the concert hall many times, agrees with Tognetti that the concert hall's auditorium is world-class.
"Apart from the outstanding acoustics, it has an amazing sense of intimacy. Although it seats nearly 1,800 people, the audience feels connected to the artists and the artists feel that closeness to the audience," Coughlan said during a conversation in the concert hall's foyer ahead of today's 50th anniversary.
"You don't feel like you're in a huge cave, desperately hoping that your music ideas will be successful. You can actually feel the audience's reaction."
Coughlan believes the concert hall's opening in 1973 had a tremendous impact on the local music community and culture in general. "A purpose-built concert hall signaled to the world that we were serious about the arts. It also inspired a generation of performers and music lovers," says Coughlan, who, as a young music student, was overwhelmed by visits to the Chicago and London symphonies.
While the Perth Concert Hall is known for living up to the high standards demanded of classical musicians, it has hosted an exceptional cast of jazz and pop musicians, many of whose concerts are long-lasting memories Western Australian Art Editor Ron Banks.
"Wynton Marsalis, Ella Fitzgerald, Count Basie, the Philip Morris Superband, Cleo Laine and John Dankworh, Pat Methany, James Morrison and Don Burrows were among the luminaries who played the Concert Hall," Banks recalls.
Of all the artists to grace the Concert Hall, State Bank's favorite was German cabaret artist Ute Lemper, who performed in 2003.
"Alone on stage, with a microphone, a feather boa and a selection of songs by Astor Piazzolla, Kurt Weill and Berthold Brecht, Lemper evoked the dark days of 1930s Germany and found glimmers of hope in other material," he says.
Not all lived up to their reputations, however, with jazz great Nina Simone being Banks' biggest disappointment. She barely communicated with the audience and left the stage after just an hour, he recalls.
"Nevertheless, it was a rousing farewell, suggesting that Perth audiences can be remarkably tolerant and forgiving. Or that they are easily blinded by reputation."
While Coughlan still regards the auditorium as one of the best in the world, he is less enamored with the shell, which he says was built on a budget and lacks the grand vision that has made the Sydney Opera House one of the wonders of the world.
"I love the look of the Perth Concert Hall, I love this style of architecture. It is clearly modeled after New York's Lincoln Center. But it has too many problems to be called a great building. There is not enough space in the foyer, there are no reception rooms, there is nobody here now because there are no bars, no restaurants, no cafes and the backstage facilities are woefully inadequate. The director's wardrobe is smaller than my bathroom," he laughs.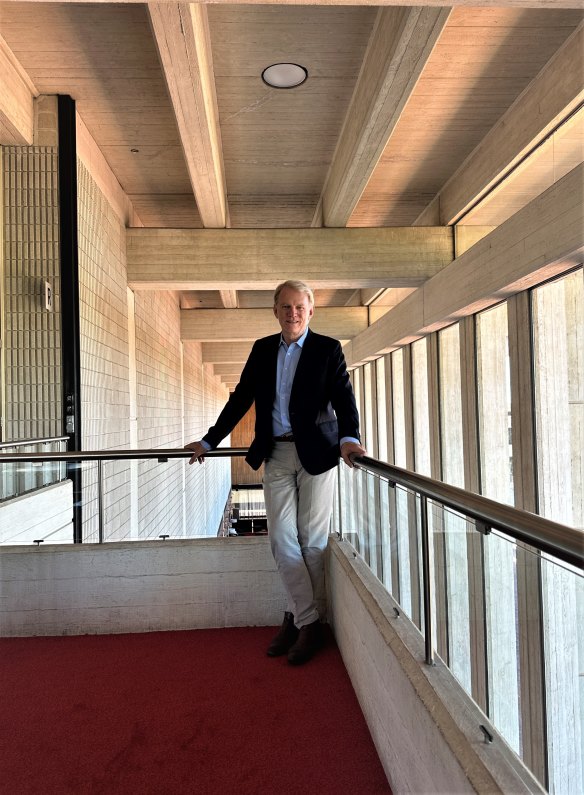 "The Perth Concert Hall was built for $3.2 million while they spent over $100 million on the Sydney Opera House. Of course, the opera house was controversial because it cost so much, but look at the building! Instead of believing that this building would last a hundred years, so let's make it as beautiful as possible, our politicians set out to make it as cheap as possible."
Even more pressing is the concern that the Perth Concert Hall is in dire need of a refurbishment. While hundreds of millions of dollars have poured into the Sydney Opera House to improve acoustics and refocus the building with architect Jorn Utzon's vision, the Perth Concert Hall has been left to decay, with structural weaknesses and leaks threatening the building's overall integrity.
According to the concert hall's website, these and many other issues will be addressed when the renovation begins later this year. A more exciting prospect is the long-held dream of making the Perth Concert Hall the center of the arts district, activating the space that is now endless rows of red brick (nothing definitive has come out yet, so it's all speculation at this point). ).
"I'm hoping that there will be a total renovation of the building and an upgrade of the site," says Coughlan, "when we get to the centenary, I don't want to look back and say, 'It has great acoustics, too bad about everything else'."
Summer Sale! Subscribe to WAtoday for $1 a week for the first six months, for uninterrupted access to news, culture and sport from our Perth team, plus sister publications The Age and Sydney Morning Herald, and exclusive emails from our newsroom. Change or cancel at any time. Hurry! sale ends
https://www.smh.com.au/culture/music/after-50-years-the-perth-concert-hall-is-a-little-worse-for-wear-but-still-one-of-the-world-s-finest-20230125-p5cf87.html?ref=rss&utm_medium=rss&utm_source=rss_culture After 50 years, the Perth Concert Hall has run down but is still one of the best in the world