AFP targets foreign interference in multicultural communities with information campaign
Federal Police are stepping up the fight against foreign interference operations in Australia's multicultural communities amid concerns the problem is both underreported and widespread.
In a campaign starting Monday, federal police community liaison teams, who have previously worked on counter-terrorism campaigns, will meet with community and religious leaders to raise awareness of the issue and urge people to suspect suspects Report foreign interference to the police or community leaders.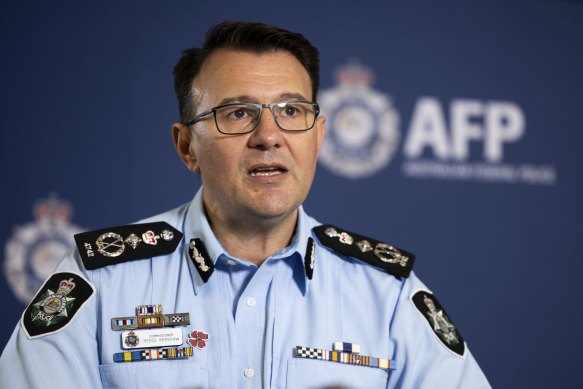 The move comes after ASIO Director General Mike Burgess warned last week that Australia was experiencing the highest levels of foreign interference, espionage and terrorism in its history.
Burgess also revealed that a so-called "swarm of spies" had been disrupted and deported over the past 12 months Age And The Sydney Morning Herald Then it was revealed a group of Russian spies posing as diplomats who were under surveillance for more than 18 months before being deported.
AFP Special Investigations Commander Stephen Nutt said foreign governments and their proxies were engaging in hostile activities in Australia, targeting everyone from government decision-makers to human rights activists, dissidents, religious and ethnic minorities and even journalists to silence criticism to monitor their activities and obtain information and promote the policies of foreign governments.
Loading
Police believe foreign interference operations are also not limited to the usual suspects in China, Russia and Iran. They say people of Indian, Vietnamese, Thai, Cambodian and Lao background are also vulnerable to pressure from foreign government officials, as well as officials from Kazakhstan, Kyrgyzstan, Turkmenistan and Uzbekistan.
As part of federal police public relations, fact sheets are published in 30 languages, and a national security hotline – 1800 123 400 – operates 24 hours a day, seven days a week to take tips from the public.
"At the community level, foreign interference is defined as threats and intimidation directed, monitored, or sponsored by and targeted by foreign governments [culturally and linguistically diverse] communities to harm and impact Australia's multicultural way of life," Nutt said.
https://www.smh.com.au/politics/federal/federal-police-to-blitz-foreign-interference-in-multicultural-communities-20230224-p5cnd8.html?ref=rss&utm_medium=rss&utm_source=rss_politics_federal AFP targets foreign interference in multicultural communities with information campaign