AFL concussion claims to be rising
Former Western Bulldogs president and prominent negligence attorney Peter Gordon has been tasked with examining the merits of a concussion fund for those suffering post-career, but the AFL said on Friday it is interfering with ongoing collective bargaining negotiations with the AFL Players' Association. The basis for this is the division of 4.5 billion US dollars in fees for broadcasting rights from 2025 onwards.
It has yet to be decided whether, if given the green light, it will be linked to the AFLPA's hardship fund or become a new separate fund.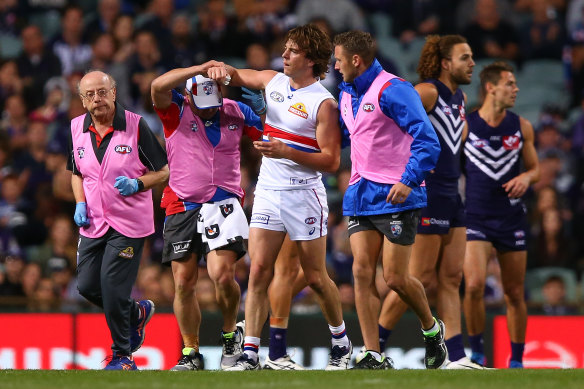 The lack of a concussion fund could prompt more players to consider or pursue legal action.
Gordon, who was also president of the Bulldogs during Picken's career, is overseas. He said while reading media reports he had not yet seen Picken's lawsuit. The AFL says Picken's upcoming trial – which is expected to take place within 18 months and before only one judge – will not affect Gordon's role as an advisor to a potential insurance fund.
Picken's move comes after former AFLW Collingwood vice-captain Emma Grant, represented by Margalit Injury Lawyers, filed a civil suit against the Magpies after suffering an extended concussion that led to her early retirement.
Managing director Michel Margalit has also announced a class action lawsuit, saying severely injured former players could be awarded more than $2 million each in compensation. But the law firm that met concussion activist and AFL player agent Peter Jess has declined to disclose potential names or a lead plaintiff.
South Australian lawyers Greg Griffin and Jess have spent more than a decade launching a class action lawsuit. While plans are reaching the tip end, Griffin said Friday it was too early to confirm when the papers would be submitted to the Supreme Court.
Griffin is leading former Richmond player Ty Zantuck's Supreme Court case alleging negligence by the club in treating his back injuries and concussions, a claim the club has denied. He is also leading the case of Shane Tuck, later ex-Tiger, and his family in a coronal investigation into whether his death was the result of headbutts on the field.
Tuck was posthumously diagnosed with chronic traumatic encephalopathy (CTE), a brain degeneration likely caused by repeated head injuries.
Jess, who provided a list of 32 AFL players, including Daniel Venables, Justin Koschitzke, Koby Stevens and Kade Kolodyashnij, who have retired with some form of brain trauma since 2009, to a Senate inquiry into concussions and repeated head injuries, said this AFL is facing legal action from dozens of players.
Jess has repeatedly written to the AFL setting out his concerns about return-to-play protocols for shake and sub-shake hits.
"You have nowhere to hide. The protocols are not good enough yet. The last published paper [on concussion] was from Oxford University on Jan. 31 and said if you have three clinical concussions, you should consider continuing to play," said Jess, who, through Concussion Watch, provides an independent list of serious head injuries in the AFL and League Two competitions compiles. called.
Loading
"I asked the AFL a week ago, do you have a concussion pass and do you have a record of the number of concussions each player has had? They said no.
"You cannot have a concussion management system if you don't understand the structural and functional integrity of a person's brain."
Since 2005, the AFL has made more than 30 rule and court policy changes to reduce the risk of concussion, including tougher penalties for punches that result in a headbutt.
"The health and safety of players at every level of the game is a top priority for the AFL, and we take concussion and protecting the brain health of everyone who plays our game extremely seriously," the AFL said.
The minimum absenteeism for a player diagnosed with a concussion is now 12 days, but Jess and Professor Alan Pearce, a neuroscientist and concussion expert who will appear at the Senate Inquiry hearing in Melbourne, insist affected players should be up to one need a month off.
Stay up to date with the best AFL coverage in the country. Sign up for the Real Footy newsletter.
https://www.smh.com.au/sport/afl/more-will-come-forward-afl-concussion-claims-to-rise-20230310-p5cr1h.html?ref=rss&utm_medium=rss&utm_source=rss_sport AFL concussion claims to be rising