Adelaide Strikers star says Marcus Stoinis should have grabbed the Melbourne Stars gun
"We asked the question, we appealed, but nothing happened.
"I'm pretty sure his time was up."
Eleven days earlier, against Sydney Thunder, the Englishman Hose, the incoming batsman, was still scratching at his cover and gardening when batting partner Matt Short yelled "Hosie, face up" as the 75-second countdown almost ended.
"Referees have been really hot on me for the last few games," Hose said.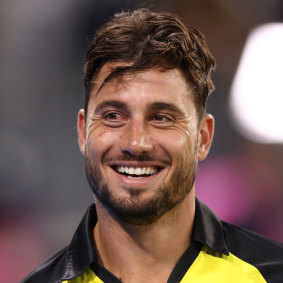 "I've been warned about this a couple of times and had to change my routine for the first ball.
"I think that's the reason for my frustration because they were very hot for me.
"I just hope if it goes on for the rest of the tournament it needs to be enforced if it's going to be a rule."
Stoinis was aware of the ticking clock but dismissed Hose's claim, insisting Adelaide's field was not set in time.
"I checked the center (guard), then stood off because I could see the field moving," he said.
"I didn't actually know that I still had to stand there."
Stoinis also criticized the Strikers' appeal for a timeout call against Hilton Cartwright in the 14th over.
"The same thing happened with Hilts," Stoinis said.
"They (Strikers) appealed about it, but the field moved so it ended up being a dead ball.
"I wouldn't appeal[for it].
"The rule applies when someone tries to exploit and slow down the game."
After winning the bat flip and choosing to bat first on New Year's Eve, the Stars went 7-186 after Stoinis' whirlwind innings. The Strikers were limited to 5-178 in response. Hose finished undefeated at 56.
– AAP
News, results and expert analysis from the sports weekend are sent out every Monday. Sign up for our sports newsletter.
https://www.smh.com.au/sport/cricket/his-time-was-up-strikers-star-says-little-known-rule-should-have-sent-stoinis-packing-20230101-p5c9pb.html?ref=rss&utm_medium=rss&utm_source=rss_sport Adelaide Strikers star says Marcus Stoinis should have grabbed the Melbourne Stars gun