ACCC reports an increase in Qantas complaints and reminds airlines to cut fares
The problems Qantas experienced over the period also affected all airlines in different places, but the ACCC did not see a similar flow of complaints. Complaints about Jetstar, Qantas' budget arm, fell 33 per cent to 544, and rival airline Virgin Australia saw a 27 per cent drop from 359 contacts.
The latest domestic performance data from the Bureau of Infrastructure, Transport and Research Economics shows that the airline industry's on-time performance improved in January, with less than 25 percent of flights arriving late. Jetstar's on-time performance remains below average, with 35 percent of flights delayed and 7 percent canceled during the month.
ACCC Commissioner Anna Brakey said she was heartened by the continued decline in airfares since last year and urged airlines to cut fares further after the price of jet fuel fell from its peak in June 2022.
"The price of jet fuel is trending down, which should allow airlines to cut fares further in the coming months," Brakey said.
Jet fuel costs skyrocketed last year due to the Ukraine war, but have since fallen more than 35 percent and are expected to stabilize further in the coming months. Australia's major airlines have also brought capacity back to the market, with 5.9 million seats offered on Qantas and Virgin in January, the highest number in more than six months.
According to the report, average revenue per passenger fell 13 percent between December and January as airlines increased seating capacity, but remains 13 percent higher than the same period in 2019.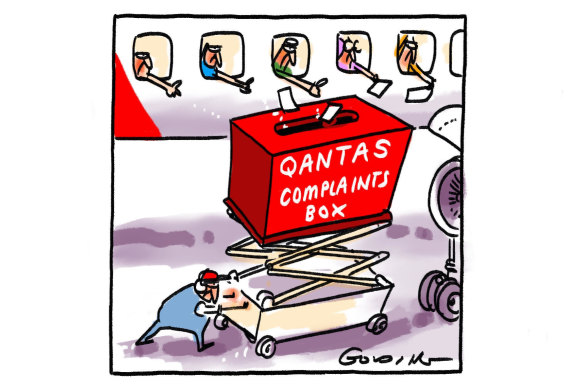 "While it's positive to see airfares falling from record highs in 2022, passengers are still paying more to fly today than they did before the pandemic," Brakey said.
Loading
Qantas was flying at 102 percent of its pre-pandemic capacity, while Virgin hovered at 96 percent and Jetstar hovered at 84 percent.
https://www.smh.com.au/business/companies/qantas-complaints-rise-by-70-per-cent-as-accc-calls-on-carriers-to-reduce-fares-20230308-p5cqdg.html?ref=rss&utm_medium=rss&utm_source=rss_business ACCC reports an increase in Qantas complaints and reminds airlines to cut fares