ACCC MP Delia Rickard's decades-long battle against scammers
Delia Rickard, who is stepping down from her role as deputy chair of Australia's Competition and Consumer Commission this week, has shaped her career path through a list of bullet points her father encouraged her to write decades ago.
In the mid-1980s, when he became restless while studying for a master's degree in refugee law, Rickard was looking for a job — and a direction.
"He said, 'Get a piece of paper. Draw a line down the middle, think of all the features you want in a job and all the features you don't want," Rickard tells this imprint. "'Don't think about the job. But what do you want to do?'"
"I thought I wanted to make the world a better place," she says. "I want a lot of projects and the ability to really impact people's lives."
Rickard says these ideals were instilled in her as a young girl watching ABCs in the 1960s and 1970s That day tonight on black-and-white television and having socio-political debates with her family at their wooden dining table.
"I grew up during the Vietnam War," she says. "Like any young person, I wanted to solve all the world's problems, eliminate inequality, talk about environmental issues… That's just how we grew up. I think it raised awareness in all of us."
Following her dot-point-making exercise, Rickard left the Masters after securing a job with then-Attorney General Michael Tate, whose portfolio included consumer protection, an area to which she dedicated three decades of her life alongside product safety. Financial education and fraud prevention.
Having spent the past decade in the competition authority's second-highest position, her tenure practically predates the organization itself: in 1993, Rickard joined what was then known as the Trade Practices Commission, which became the ACCC in 1995 when it dealt with Price Surveillance merged agency. She worked for ASIC for 13 years before returning to the ACCC as Deputy Chair in mid-2012.
As a deputy, Rickard generally avoided the limelight, which was often captured by then-Chairman Rod Sims, who wasn't afraid to polarize. But lately, Rickard has been stepping out in front of the media to warn Australians about the vicious rise in scams.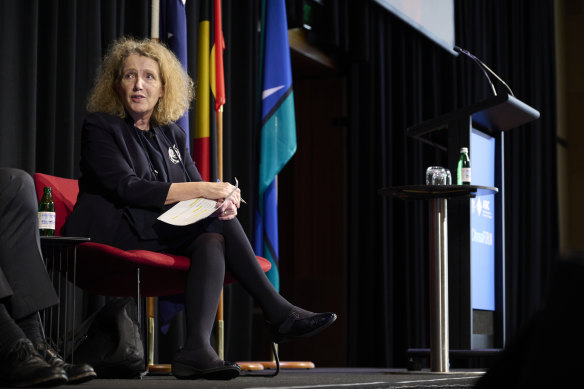 In 2022, Australians lost more than $568 million to faceless scammers (and that's just the amount reported to ScamWatch). That number is 75.7 percent higher than 2021 levels, with victims spread across all generations. Not everyone in society has evolved as fast as technology, she points out. "There are a lot of us who aren't digital natives," she says.
When asked why this topic is so important to her, Rickard pauses.
"I have seen so many people's lives destroyed by scams. I mean, some people have been destroyed by suicide," she says. She specifically describes love cheating as her pray noire because of the way it preys on lonely people looking for love. These people lose not only their own money, but also money they borrowed from friends and family. "You are embarrassed, humiliated."
ups and downs
The work Rickard is most proud of isn't whopping triumphs in court cases, but building platforms that provide resources and essential tools to help Australians make better everyday decisions. While not part of her time at the ACCC, Rickard singles out the creation of ASIC's MoneySmart website, which launched in March 2011, as one of her proudest contributions.
"The whole idea behind MoneySmart… was to give people the tools to go online and compare retirement plans, what the fees were, see if you can afford a mortgage or not, and find out what the average interest rate has been over the past 25 years," she says.
Loading
"We have also included financial opportunities in the school curriculum. Exercises for moving out of the house, finding an energy plan, and all these very practical real-life skills are taught.
"It was a whole project with financial viability, the total package I'm proud of."
As for hard spots or regrets, Rickard brings it back to the tangible difference the ACCC's fraud prevention work can make in people's lives. A sore point for her is the scrapping of a beloved project in the mid-2010s when she led a small team of two combing through data from the financial intelligence agency AUSTRAC.
"We messaged people who we thought were likely victims of love scams and invited them to call us. The team spent hours on the phone with them," Rickard recalls. "After we were done, we found that this work probably saved us about $100 million."
The project ran for about a year before being scrapped because it was too tedious to work. Projects come and go all the time, but this one was special. "I understood why people were calling, but I was very disappointed," she says.
"It was against my will for resource reasons. That's the one thing I've never forgiven."
fight of his life
Even after more than ten years in the office of deputy chairman, the work is not done. Rickard rattles off a considered list of issues she hopes to see progress on, including an Unfair Practices Act (to crack down on practices that aren't quite "deceptive or deceptive" or "ruthless" but "still cause real harm") ). ; a general safety rule (which would oblige suppliers not to sell unsafe goods, instead of the current reactive recall policy); a digital ombudsman system (to resolve disputes between consumers and digital platforms); and consumer guarantee rights strengthened ("we are very keen that this becomes a civil criminal offence"). Another topic close to her heart is the payee verification scheme, which prevents bank transfer fraud by matching a recipient's bank details to their name.
Rickard understands it will take time. "One of the things I always say to my team is that change is incremental."
The civil servant is full of praise for her employer of more than ten years, which she has seen transformed into a more inclusive workplace. Rickard's replacement, Catriona Lowe, means the ACCC's top executives – both the new vice president and the current chair, Gina Cass-Gottlieb – are women.
"One of the things that impresses me is how far it has come for women. It's just a much better place when I look at the people, senior-level job sharing and the work-child balance and still making a difference – I'm really excited about that," she says.
"I see that the public sector has gone in the right direction in recent years, especially on issues around diversity and women's rights."
Loading
She feels it's time to go. Rickard has never aspired to the top job as chairman and lauds Lowe as her successor.
"I've had two terms and a number of renewals, I think it's the longest anyone's had the job. I think it's right that it's up to someone else. You get tired, you need fresh energy, you need fresh ideas," she says.
"[Catriona is] absolutely fantastic. Her stats are impeccable, she's smart, she's articulate, she's going to do a sensational job… This renewal process is important."
Rickard's official last day on the job is January 26th, a public holiday, but she takes a few days off to go to the coast for some downtime before throwing herself into her five other jobs. Rickard sits on the boards of the Australian Financial Complaints Authority, the Australian Communications Consumer Action Network, Super Consumers Australia and the non-profit organization Good Shepherd. She will also chair an AHPRA committee and serve as trustee of the Jan Pentland Foundation.
She is looking forward to the lighter workload. "It's going to be a much more relaxed pace," she says. "I don't think I have to work that hard, I don't mind getting some more sleep."
It's hard to imagine that this illustrious career would never have happened if she hadn't followed her father's advice to finish law school.
"I wanted and still want to be a political journalist," she adds.
The Business Briefing newsletter delivers important stories, exclusive coverage and expert opinions. Sign up to receive it every weekday morning.
https://www.smh.com.au/business/consumer-affairs/i-ve-seen-lives-destroyed-accc-deputy-delia-rickard-s-decade-of-fighting-scammers-20230116-p5ccx3.html?ref=rss&utm_medium=rss&utm_source=rss_business ACCC MP Delia Rickard's decades-long battle against scammers