A mission in the Middle East led the Australian to Islam
"There was something about the Trinity that I didn't like… I feel like I used to think quite Islamically, but now I have a framework and an anchor point."
Almost half of the ADF's active operations are in predominantly Muslim countries, and it's clear Hembrow struggles with that.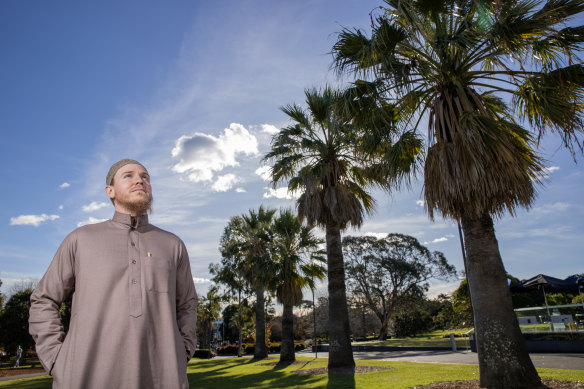 "I am satisfied with my individual efforts in the Middle East. As part of a joint task force near the Gulf of Oman, we conducted counter-piracy and counter-narcotics operations. I can't talk about what else is happening, I'm not on the ground in many countries, but it's something I think about often.
"It's a very difficult subject and I think I'll think about that as we go along." But I'm proud of my service, I did it with the right intention."
Hembrow observes the five pillars of Islam, including praying at least five times a day, fasting during Ramadan, and performing both obligatory and non-obligatory almsgiving.
Loading
Speaking of the charity, he says: "That is not the case [necessarily] financially it can be anything. Give someone your time, call my mother. I never spoke to my biological father before, but now it is very important from an Islamic point of view to have this kinship.
"[My faith] helped me build many bridges that weren't there before."
To deepen his understanding of the religion, Hembrow attends courses in Islamic Studies two to three times a week. In addition to his full-time job, he is also studying Arabic at the University of Sydney.
On a social level, he has found a community of Muslim people that deepens his love for the faith.
"I honestly get bear hugs. The big Arab boys cast a spell over me. Every time I meet someone who is Muslim and finds out I'm Muslim, I get special treatment. I don't feel like I deserve it but they are phenomenal people."
How does he know if someone is Muslim? "Every conversation you have with anyone will praise God. They are very quick to attribute everything positive about themselves to God. And they're mostly open to talking about it too; I haven't met anyone who is ashamed of it."
The way people deal with their Muslim identity varies from culture to culture depending on whether the practicing person is of African, Middle Eastern or South Asian background.
Hembrow acknowledges that each country has its own rituals and celebrations, but he believes the beliefs, rules and fundamentals remain the same.
Loading
"No cultural practices dilute the religious foundations. Being white I can't speak for other cultures but I think it depends on what kind of iftar meal you cook, whether you go to the mosque for iftar or whether you eat it at home with the family. " he says.
Hembrow joins Muslims around the world in celebrating Eid al-Adha, also known as the Feast of the Sacrifice. It is one of the most important Islamic festivals as it is a recognition of the faith. Since June 28, Muslims have commemorated Prophet Ibrahim's willingness to sacrifice his own son for the sake of Allah.
The Morning Edition newsletter is our guide to the day's most important and interesting stories, analysis and insights. Login here.