A Guide to Ocean Pools in NSW
Bondi may have its iconic Icebergs Ocean Baths.
But I am fortunate to live in Coogee which has four magnificent ocean pools which, like the 100 or so throughout NSW, from East Ballina in the north to Eden in the south, are all sacred sites.
The four Coogee pools are so diverse that I often choose one to suit my mood or the time of day I can swim.
For early mornings I prefer McIvers Ladies Baths. Swimming at sunrise became a heartbreaking ritual here after the death of my mother Grace.
I love arriving after dark and descending the steep steps to immerse yourself in the healing waters.
I swim a few laps in the dark and then watch the golden sphere of sunshine and the occasional frolicking dolphin on the horizon. When the sun's rays shine on the sandstone cliffs, I feel like I'm in a place as remote as Kakadu. But no, I'm in the city of Sydney.
I will be breaststroke with a sorority of sister swimmers, sometimes in silence or in conversation with these lovely older women who have become my new adoptive mothers. It's easy to see why indigenous women have been coming here for centuries. It's a sacred feminine space.
It is Australia's only coastal pool reserved exclusively for women and children after the NSW Government granted the pools an exemption from the Anti-Discrimination Act in 1995.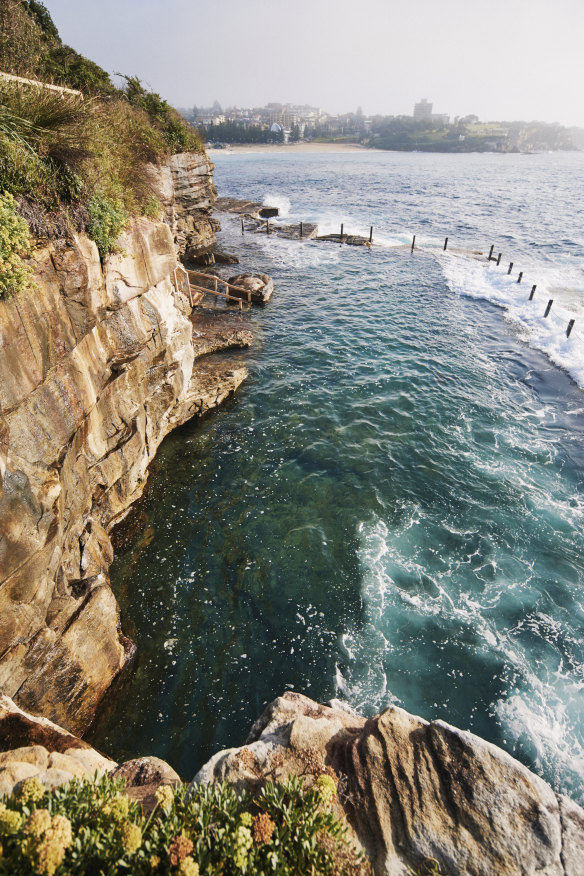 I love the rush of endorphins after a swim, the outdoor shower and how my curly hair feels after the salt water. I'll lather lotion onto my skin as I gaze out at the ocean through the dressing room's roller shutter window. I often think there is no more beautiful place on this planet than this place. If I could build my perfect coastal home – this very simple, basic, but beautiful structure it would be.
For later in the day, I prefer the old-fashioned glamor of Wylie's Baths. It doesn't get as much morning sun as the ladies' pool, so its water is cooler, as the water temperature board always tells you. Its wooden structure provides more shade and makes it more attractive for all-day visits.
The construction of the baths in 1907 coincided with Sydney's burgeoning interest in seaside swimming around the turn of the century. The Baths were one of the first mixed-sex bathing pools in Australia.
Its ramshackle old bathing pavilion has retained an otherworldly feel, immortalized by artists such as Arthur Streeton and Jeffrey Smart, and more recently by cartoonist and regular swimmer Matthew Martin and local painter Alex Snellgrove. The cafe with good food and coffee can also help you stay there all day, with the occasional dip in the water to check on the resident starfish and squid. It's a pool to come to if you want to linger longer.
I swim at Ross Jones Pool next to Coogee Beach when I'm in a hurry or when the sea is too choppy for a comfortable open water swim.
I look longingly at the waves from here and remember my dad Allan teaching me to bodysurf. Cold as the water is, the memory of clinging to his shoulders for safety warms me. I love watching little kids learning to test the waters here with their parents, and I remember my dad's mantra: "Never turn your back on a wave."
Locals have been swimming in this pool at the foot of the Coogee Surf Life Saving Club since 1947, when it was forged out of the rocks at the south end of the beach and named after a local councilman.
Its concrete towers sometimes make it look like a sunken castle. On hot summer nights, people come here to hide when they can't sleep. It's common to see islander families here with picnic lunches and boomboxes swimming on sweltering summer nights while waiting for the bus from the south to cool things down.
A dip in Giles Baths Rockpool – at the north end of the beach – is my favorite way to end the day. It used to be a male-only domain when Sydneysiders took the tram to Coogee Pier and men headed south for a swim and women headed north to the women's baths or Wylie's. This natural rock pool is still known to old-timers as the Bogey Hole, a British term for a natural pool associated with a water spirit. We locals call it Ölüdeniz, after the resort town of Blue Lagoon in Turkey, because the water is so clear and beautiful.
Ocean pools are my happy place. I smile when I think of her.
Loading
Being around her is good for my mental and emotional health. I learned that after the death of my husband William, the sea was a comfort and a tonic.
I remember moving back to Sydney in 2009 after a decade in California's wine country, friends met me at the airport, took me for coffee and then straight to Maroubra's Mahon Pool. I had never been there and it felt like paradise. Dipping in this ocean pool washed away all my travel hours.
I vowed to live in Sydney when I got back by the sea. The fact that nothing stops the tide; it was rhythmic and reliable even in the face of death, reassuring me. It made me feel like I could trust life and that without him I could be confident in the world again.
Maybe because his ashes are scattered across San Francisco Bay across the Pacific Ocean, every time I dip into the waters at that end of the same ocean, it's like a morning hug or a chat with him.
As the country that gave the world the Australian freestyle swimming style, ocean pools are our sacred places. Dive in. You will never regret a jump.
This is the foreword to ocean pools, by Chris Chen and Marie-Louise McDermott. Available now from Thames & Hudson, $59.99.
A cultural guide to going out and making love in the city. Sign up for our Culture Fix newsletter here.
https://www.smh.com.au/culture/books/from-east-ballina-to-eden-which-nsw-ocean-pool-is-your-favourite-20230105-p5cajz.html?ref=rss&utm_medium=rss&utm_source=rss_culture A Guide to Ocean Pools in NSW