A dying whistleblower's lawsuit with ClubsNSW over money laundering
A whistleblower who exposed lax money laundering compliance in NSW poker machines will spend the final months of his life defending a lawsuit brought by ClubsNSW.
Troy Stolz, the former head of anti-money laundering and counter-terrorism finance at ClubsNSW, is facing a private contempt prosecution filed by his former employer last month, four months after learning he was at bone cancer would die.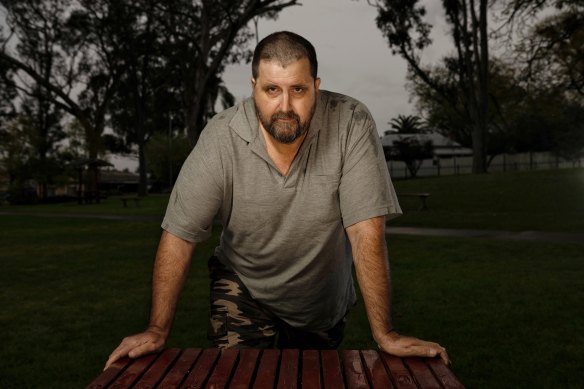 Stolz said ClubsNSW's move has only reinforced its determination to continue fighting for the right to disclose money laundering information at registered clubs in the public interest. He had already sold his home on the Central Coast and moved to Merriwa in the Hunter Valley to pay off $900,000 in legal fees.
"At this point I have nothing to lose," said Stolz.
"ClubsNSW uses the court system to issue orders [on me] and run me down rabbit holes to drive me crazy and damage my health. They will do anything to get their way."
ClubsNSW is also suing Stolz for disclosing confidential information and has included in his lawsuit a lawsuit against his wife, who will now be forced to keep fighting after he leaves.
The civil lawsuit relates to a May 2019 ClubsNSW internal report which found that 95 per cent of registered clubs in NSW failed to comply with anti-money laundering and anti-terrorism laws. Stolz leaked the report to Independent MP Andrew Wilkie. That Sydney Morning Herald and the ABC in 2020 after reportedly failing to get traction while raising issues internally.
It was the start of a long and complicated legal battle by ClubsNSW, which has variously prosecuted Stolz for breaching the confidentiality clause of his contract, intimidating the organization through his comments on social media, violating court orders and criminal contempt. Stolz had taken legal action by suing ClubsNSW for wrongful dismissal.
A temporary restraining order on the case was lifted last month.
https://www.smh.com.au/national/nsw/i-ve-nothing-to-lose-dying-whistleblower-sued-by-clubsnsw-20220921-p5bjsr.html?ref=rss&utm_medium=rss&utm_source=rss_national_nsw A dying whistleblower's lawsuit with ClubsNSW over money laundering