A biennial of dance reviews
Sheppard uses words sparingly, to great effect. "I don't have a dance of death," she admits right at the beginning. The work involves a personal reckoning with the destruction of indigenous peoples and cultures caused by colonialism and the successive waves of migrants who came to this country uninvited. It doesn't limit the spiritual implications of this ongoing story and challenges everyone to think about it.
The artist's makeshift private ritual for dead friends – performing an incense ceremony using fresh eucalyptus leaves; cracking open a beer to honor the dead – rounds out the show, but broader references to Aboriginal spirituality, cosmology and mysticism are incorporated, often through Ayesha Mehta's living projections.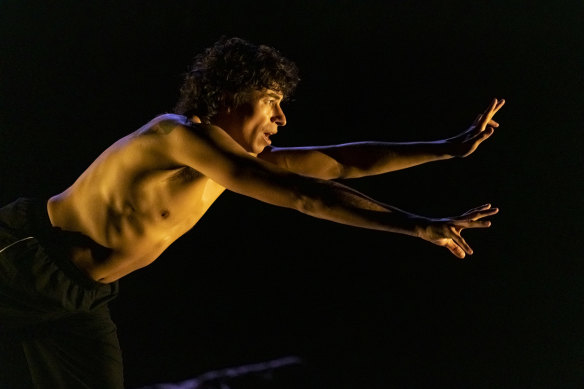 Since the first edition in 2019 The honor has benefited from verbal polish, improved sound and visual design, a deepening of both the physical storytelling and the overstimulated nervous movement that serves as the creative substrate.
One change that may not be an improvement is the deletion of a taboo-breaking scene – presumably for "cultural safety" reasons. This raises vexing questions, but artists should be wary of adopting the idea of ​​"cultural safety" to censor themselves.
The original scene evoked the shocking irrationality of contemporary Japanese butoh; It also had precedent in indigenous dance theater – The Chooky Dancers' fake skin 2010's Yolgnu, for example, openly challenged sexual taboos while drawing inspiration from international dance styles.
Reviewed by Cameron Woodhead
DANCE
Two, Raghav Handa ★★★★
Mohini, Raina Peterson★★★★
Arts House, North Melbourne, until March 4th
The new Frame Festival has officially landed. What is that I hear you ask? A photo festival? A design festival? No, it's a dance biennial, although it's hard to say what dance has to do with frames.
However, such a plainly plausible name is appropriate for a festival where creative decisions are made in consultation with a committee of about a dozen partner organizations and artists nominated by those organizations.
Of course, dancing is more about breaking the frame than sitting in it. Twocreated by Raghav Handa and Maharshi Raval, a show about challenging the traditional limitations of Kathak performance is a case in point.
Kathak is a classical North Indian dance form accompanied by instruments including the tabla drums, of which Raval is an experienced teacher and performer. Handa, on the other hand, describes himself as a contemporary dancer and choreographer.
The two are also friends and their performance is designed as a dialogue: a way of working together, but also to express their mutual affection and respect.
Wry and unpretentious, Raval demonstrates his mastery of the tabla while softly emphasizing the importance of convention. Handa develops his own exuberant vocabulary of movement in passages of structured improvisation that respond to Raval's rhythms.
Two is a reflective, light-hearted, and often surprising exploration of Kathak and its potential influence on contemporary forms. The acting – the performance of impromptu banter – is straining at times, but the show is cleverly composed and genuinely touching.
Also part of the Arts House Frame program is Raina Peterson's startling interpretation of the story of the mythological seductress Mohini, the female avatar of the Hindu god Vishnu.
Peterson, a trans artist trained in classical Mohiniyattam, depicts the emergence of Mohini from the primeval oceans, the distribution of the nectar of immortality, and an encounter with power-seeking demons.
The work questions what it means to see Mohini as a transfigure: as a manifestation of a desire for transformation itself, rather than as a divine disguise or mask. In other words, it's a vision of a non-binary God.
Loading
The version of this work presented at the Sangam Festival in 2021 had significantly lower production values, but a stirring intensity that the current version lacks despite lasers and stage smoke and pounding guitars.
Nonetheless, some memorable dance images are generated in this performance, especially when Mohinidraped in sinuous grace seems to rise above a seething cloudscape in an astral rainbow.
Reviewed by Andrew Fuhrman
A cultural guide to going out and making love in the city. Sign up for our Culture Fix newsletter here.
https://www.smh.com.au/culture/dance/history-and-razzle-dazzle-collide-in-a-new-festival-of-dance-20230302-p5cota.html?ref=rss&utm_medium=rss&utm_source=rss_culture A biennial of dance reviews