80 percent of the population is now ill, says a senior health official
China said the death toll from COVID surpassed 12,600 in the week leading up to the Lunar New Year holiday, while a top health official said more than 1.1 billion people had been infected since virus controls were abruptly dismantled late last year .
There were 12,658 COVID-related hospital deaths between Jan. 13 and Jan. 19, the China Center for Disease Control and Prevention said in a statement Saturday. A week earlier, the country had reported 59,938 such deaths from December 8 to January 12.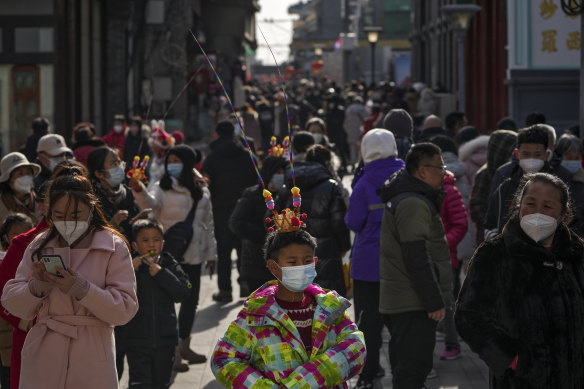 The data comes after China came under fire for drastically narrowing its definition of a COVID-19 death and halting daily case counts. The World Health Organization has urged Beijing to release more detailed information on the country's COVID situation as the virus spreads rapidly across China after extensive COVID-zero restrictions were suddenly lifted.
China now appears to be trying to allay those concerns by reporting deaths outside the narrow definition, which counts only deaths of infected people with respiratory failure.
Despite this, the figures that China is now revealing still only give an incomplete picture, as they only count deaths in hospitals and ignore those that occur at home and in aged care facilities. The true number could be hundreds of thousands higher, given the scale of the outbreak and compared to death rates in other countries.
Separately, China CDC chief epidemiologist Wu Zunyou said in a Weibo post over the weekend that 80 percent of the population has been infected in the current outbreak. China had a population of 1.41 billion at the end of 2022, suggesting that more than 1.1 billion people have contracted the virus so far.
Wu didn't elaborate on how the figure was calculated, as the country's massive testing apparatus was being dismantled.
While traveling during the Lunar New Year holiday could lead to a spike in cases in some regions, Wu said there was "very little chance" of widespread infection or a second nationwide outbreak in the next two to three months.
https://www.smh.com.au/world/asia/top-health-official-says-more-than-1-billion-people-in-china-have-now-had-covid-20230123-p5ceqb.html?ref=rss&utm_medium=rss&utm_source=rss_world 80 percent of the population is now ill, says a senior health official