24,500 in the Anzac Day march
The sun shone faintly through gray cloud banks for most of the two hours and 20 minutes of the march.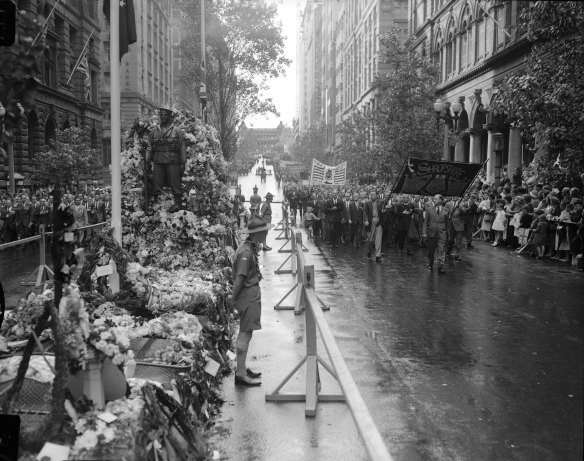 Few of the protesters broke off except during a brief burst of rain in the final minutes of the march.
Officers from the St. John Ambulance Brigade treated 168 people during the march and morning service.
Ten people who suffered heart attacks were taken to the hospital, but none were seriously ill.
Most of the victims were onlookers who fainted.
Eight people, including three teenage girls, collapsed during the morning service. One protester, Mr. R. Gilman, 65, collapsed near the domain.
He was admitted to Sydney Hospital with a suspected heart attack.
His condition last night was described as fair.
Spectators alternated cheering and silence as 64 bands and marching men and women from the Boer War, two world wars, Korea and Malaya passed by.
Silent crowds 10 and 12 deep at the wreath-decorated cenotaph at Martin Place watched as protesters greeted those who did not return.
Waving flags, cheering
On George, Park and College streets, spectators crowded tightly to wave flags and cheer.
Children were the loudest. Older but no less reticent spectators climbed onto stepladders, awnings and car roofs for a better view.
Crowds stood on the steps and railings of City Hall to watch the protesters as they turned onto Park Street.
Several people stood on a narrow parapet around the steps of the railroad entrances, balancing over a drop of more than 10 feet.
Marchers got lucky when a carpenter's heavy wooden trestle crashed out of the fifth floor of a building under construction on Park Street, near Elizabeth Street.
As a group of protesters passed the building, confetti rained down on them.
Before the next group could approach, the buck fell, narrowly missing several people on the footpath.
Police investigated and found that a bystander inside the building had accidentally knocked the buck off.
Younger legates ran among the protesters, handing out sprigs of rosemary.
Among others, Rosemary distributed 72-year-old Mrs. Sarah Rowlison, who was stationed near St. Mary's Cathedral.
Around her waist Mrs. Rowlison wore a webbing covered in 62 brilliant military badges and insignia collected in France by her husband, Private WS Rowlison of the Second Infantry Battalion.
A battered military tunic button was the most modest item attached to the belt – it saved Private Rowlison's life by stopping a piece of shrapnel.
Ms Rowlison has attended every Anzac Day march since her husband's death 10 years ago.
Marcher was 87
Two little boys marched with their father under the banner of the First Machine Gun Battalion.
They are Paul, 7, and Grahame, 6, children of Mr CK Matthews, 38, who fought in Morotai and the Pacific Islands.
The boys' grandfather, Mr. Stanley Matthews, 70, of Rooty Hill, a Military Medal winner, was unable to march for the first time in years due to illness.
One of the oldest protesters was Mr Arthur Spear, 87, of Clanwilliam Street, Blackheath, a veteran of two world wars.
Mr. Spear served in France during World War I.
He said yesterday he was a poultry farmer in Blackheath when World War Two broke out and he decided to volunteer to "join some of my younger buddies".
He was 65 at the time, but he had his hair dyed gray at a beauty salon, told recruiters he was 39, and passed the medical for the AIF
Mr. Spear served in the Middle East with the 9th Division and was wounded by shrapnel at El Alamein.
When he returned to Australia, army authorities discovered his real age and he was discharged. Mr. Spear has three sons, all of whom served in the last war, and one daughter.
The march was commanded by Vice Admiral Sir John Collins. After the march, thousands of former men and women attended their annual gathering.
Loading
Most meetings took place in hotels and clubs. One of the quietest reunions, however, took place at St. Philip's Church Hall in the city, where a small concert was held for 37 veterans of the South African wars.
Every man was well over 80.