15-year-old girl among brave shoppers who carried out citizen arrest at Glenmore Park
The local heroes who carried out a dramatic citizens' arrest in southern Sydney on Thursday have commented on their hasty decision to pin down two suspected armed robbers after they allegedly threatened a shopkeeper before stealing from a store.
Nikolas Clarke, 27, and Brandan Clarke, 30, entered a tobacconist at around 2.10pm on Thursday at the Town Terrace shopping center in Glenmore Park and allegedly threatened a clerk with a gun before stealing packs of cigarettes, lighters and nearly $3000 in cash.
15-year-old Marilyn Karekas was among the fearless shoppers who stopped the couple from leaving the scene.
"The first thing I see is these two guys jump out of a car, go into the store and start robbing the store," she said Seven messages. "And I'm watching it happen."
The teenager grabbed one of the men before reportedly turning and hitting her with a smoking tray he was holding.
Karekas' mother, Dalya Yousif King, was shopping at Woolworths at the time of the alleged robbery. She said she ran outside to see what was going on after hearing her daughter's screams.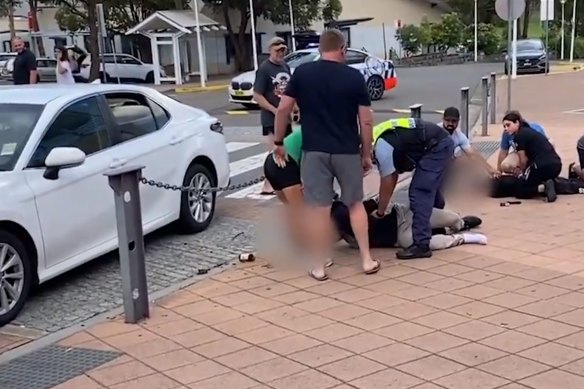 "I tried to grab the guy with the smoking tray and then he turned around and hit me with it," she said. "I was dragging him with his hoodie and managed to do a wrist lock behind his back."
"I didn't think about being a hero or anything like that," said Yousif King, who has worked in security for more than two decades Nine messages. "I was just thinking about my daughter's safety."
https://www.smh.com.au/national/nsw/teenage-girl-among-brave-shoppers-who-performed-glenmore-park-citizens-arrest-20230127-p5cg39.html?ref=rss&utm_medium=rss&utm_source=rss_national_nsw 15-year-old girl among brave shoppers who carried out citizen arrest at Glenmore Park